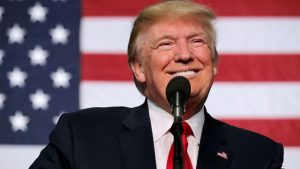 Donald Trump's tax returns show that he lost so much money in the mid-1980s to 1990s that he paid no income tax for eight out of 10 years during that period, according to a new report.
The income tax records were obtained by The New York Times, and represent the most detailed look into the president's personal taxes yet, after years in which Mr Trump had sought to keep the documents private.
Between 1985 and 1994, the documents show, Mr Trump lost tens of millions of dollars a year, with total losses adding up to $1.17bn for the decade.
According to The New York Times report on the taxes, Mr Trump's losses mostly came from his business holdings in casinos, hotels, and retail apartment space in his buildings. And, the paper reports, the sheer amount of losses during that time show that he lost more money than almost any other American taxpayer during that time, according to a comparison of his taxes to an annual comparison of high income earners compiled by the Internal Revenue Service.
The freshly released documents do not cover the years of interest to Congressional Democrats — who have demanded the Treasury Department release the president's returns, leading to a legal battle — but they do provide valuable insight into Mr Trump's history, and of the dire straights he found himself roughly 30 years ago.
A lawyer for the president has said that the tax information provided to The New York Times was "demonstrably false", and that statements from the major American newspaper "about the president's tax returns and business from 30 years ago are highly inaccurate," but did not say what specifically was wrong.
Mr Trump has built his public persona and business by licensing his name, and making that brand synonymous with the luxury lifestyle. In the 2000s, the president then became a television celebrity, and further catapulted that image into American living rooms.
Democrats are currently in a battle with the White House to gain access to the past six years of Mr Trump's tax returns, and whether Mr Trump had recent business dealings that include funding sources from foreign sources who would like to influence the president's decision making process.
Taken together, the newly released documents show that the president was far from the business genius he has publicly portrayed himself to be during that time, and that his approach to business was in stark contrast to that of his father, Fred Trump's.
While the senior Trump built a business empire around stable apartment rental buildings in Brooklyn and Queens, the president's business approach was much more erratic, shifting between different ideas as many of those ventures proved unwise.
And, according to The Times, the president's dramatic losses may have been stymied slightly by Mr Trump's questionable approach to the stock market, when he was able to make millions by publicly suggesting that he was about to take over companies only to not follow through with that plan.