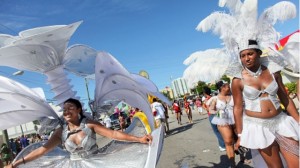 PORT OF SPAIN, Trinidad — Carnival 2015 is on. Both Minister of Arts and Multiculturalism Dr Lincoln Douglas and National Security Minister Gary Griffith said on Wednesday there were no plans to cancel or postpone carnival celebrations 2015 despite the threat of Ebola.
Both men also maintained while Carnival 2015 preparations are under way, plans are in place to protect the population from Ebola by monitoring the virus on the international circuit.
Douglas said: "We made no decision to postpone or stop carnival."
Griffith said: "There is no link between carnival and Ebola."
They made these statements yesterday during a media conference to update the media on the National Carnival Commission (NCC) Stakeholders Meeting on Ebola virus disease at the VIP Lounge, Queen's Park Savannah (QPS), Port of Spain. Carnival celebrations are scheduled for February 16 and 17, 2015.
Earlier on, several carnival and cultural stakeholders including Trinbago Calypsonians Organisation (TUCO), president Lutalo Masimba (Brother Resistance) and NCC CEO Michael Guyadeen met to discuss Carnival's future in light of the Ebola scare.
Before the formal media conference, veteran masman Mike Big Mike Antoine said he was leaving the VIP lounge "not knowing if we were up or down". Then, he posed the question, "Are we having Carnival or not?"
Douglas retorted: "I have given you all the facts. We are not working with carnival stakeholders alone. We are working with an international community. More people left the country for carnival than came into it. No decision has been made to postpone carnival or stop carnival. We will certainly be looking at the information so an informed decision can be given to the country. Things are developing as we speak. We never made any decision to postpone carnival."
Then Griffith chimed in with, "We cannot go into a situation half pregnant. Carnival is on".
During the media conference, Douglas said: "The goal was to hear from the various stakeholders and to give confidence to the national community. We need to be prepared. No decision has been made to postpone carnival. We will be hearing from experts and if needs be, then we can make changes."
Griffith added: "The issue is not banning carnival. We have an influx of about 40,000 people coming in here. Are we going to ban people for Christmas? Are we going to ban people for Divali? It is the emphasis that is being placed on carnival. There is no link between carnival and Ebola."
He also said if people approached Ebola and carnival with paranoia and hysteria then "it can turn everything else….we would have a state of emergency and people would not be able to go on the streets".
Griffith also used the analogy of a student not preparing for an exam because of the hope it would not come off.
"We need to be careful and to be responsible but we do have a clear and present danger," he said.
In the aftermath of the Ebola outbreak in West Africa, Health Minister Dr Fuad Khan announced a ban on travellers entering T&T from Sierra Leone, Guinea, Democratic Republic of Congo, Liberia and Nigeria. The ban on Nigeria was subsequently lifted. He also said citizens who have visited the banned countries will be quarantined for 21 days upon arrival.