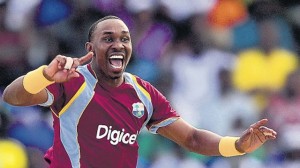 PORT OF SPAIN, Trinidad, Friday June 26, 2015 –Trinidad and Tobago all-rounder Dwayne Bravo has created history, becoming the first T&T national and cricketer to be nominated in any category in the prestigious ESPYs.
In the 'Best Play' category that also features 2015 NBA MVP Steph Curry and Ballon D'Or winner Lionel Messi, Bravo was nominated for his stunning one hand catch for the Chennai Super Kings against the Rajasthan Royals during the recently completed India Premier League.
This is the first time that any cricketer from any country in the world has been nominated for the American award, often referred as the "Oscars of Sport".
'Best Play' features stiff competition, with 16 nominees split into eight brackets or match ups. Bravo needs get more votes than a "Hail Mary" play from the Bahamas Bowl before he moves into the next round.
"I admit I am still shocked on many levels," Bravo said about his nomination.
"Firstly I am shocked and happy that cricket is being recognized by the American market and on their biggest and most prestigious night in sport. Secondly, I am in a category with athletes that I look up to and admire, titans of their sports and I am humbled."
He added that "most important" to him was that he was the first nominee from Trinidad and Tobago.
"I am proud to represent my country and value every opportunity to showcase the talent that exists here. Of course I would love to win, so I take this opportunity to ask my fans around the world to vote, not just for me but for our beloved cricket. "
Fans are encouraged to visit the ESPYs website (http://espn.go.com/espys/2015/) to cast their vote. The ESPY awards ceremony will take place on July 15 in Los Angeles.