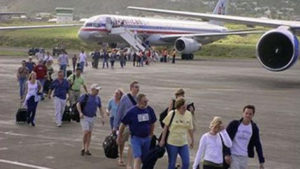 Tourist arrivals to the Caribbean grew by a solid 9.7% in the first six months of 2019 to reach 17.1 million, some 1.5 million more than the corresponding half-year in 2018.
That's according to the Caribbean Tourism Organisation quarterly statistical review for 2019 which was released on Wednesday.
During that period, the region's performance was significantly higher than that of most of the major regions and the international and regional trends.
Data for the first quarter of this years estimates tourist arrivals increased by 12.4% and totaled 9.1 million. However, during the second quarter, stop-over arrivals to the region were less buoyant, up 6.7%.
The initial monthly figures for the quarter revealed that while April and May had string performances ,13.3% and 7.8%) respectively, tourist visits to the region contracted in June by -0.7%.
The outcomes among the individual destinations were diverse but mostly positive as all regions enjoyed an increase in arrivals during the first six months with the OECS group receiving 8,515, 000 tourist arrivals by the end of June.
Declines in tourist arrivals were recorded in only two of the 25 reporting destinations, Haiti and Bermuda.
The United States continues to be the Caribbean countries' largest source market.
Based on destination information outbound trips by US residents to the Caribbean grew by 17.5% in the first three months of 2019 and by 20.2% in the first six months, totaling 8.9 million overnight international tourists.
Canada remains another major source market for the region with some 2.1 million Canadian tourists staying in the region up to the end of June, representing an overall increase in arrivals of 2.4%. Arrivals from this market had increased by 4.3% in the first quarter but declined by -1.5% in the second.
The CTO is attributing the Caribbean's strong results to the resilience of individual destinations, which the agency says demonstrates their ability to skillfully navigate political and economic concerns which threaten the stability of the global economy.