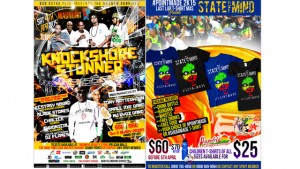 Sandy Point, St. Kitts and Nevis (February 26, 2015): Horns, whistles, torches, and the roar of excited soundclash fans will infiltrate the Sandy Point HardCourt on April 4, when the Magnum DJ Sound clash, the only of it's kind in the federation makes a triumphant return.
The epic event is sponsored by wholesale giant Rams Trading Ltd and powerhouse regional media outlet SKNVibes Inc, two of BLACK SAN's longest standing partners, have both renewed their commitments of retaining title sponsorship of this year's edition of KNOCKSHORE Night aptly dubbed 'STUNNER'.
In the essence of the sound systems rich Kittitian history, the event will converge talented competitors for a friendly, yet no-bars-held sound clash. The event is an ideal way of showcasing the talents of sound systems, astrong pillar the of Kittitian music.
"We are extremely pleased with STUNNER's strong line-up," says Judy DuPont marketing member. "We believe that die hard clash fans will be a part of an unforgettable sound clash, while experiencing an important facet of Kittitian culture."
The monumental event will feature top-of-the-line sound systems including the defending champion Ecstacy Sound of Nevis, Chalice Sounds, Chronical Leverage, and Black Stones sound, also out of Nevis. Special guest referee DJ Flames of Mad Squad sounds will officiate the competition and the veteran Tony Matterhorn isnot only scheduled to perform but would also join veteran DJs from throughout the federation to round up this year's panel of judges.
Nu Vybes Band International aka Sugar Band and the sweetest band in the world- Small Axe joins Matterhorn and the clash Djs in completing the star-studded lineup.
"The name Tony Matterhorn speaks for itself. He has competed in some of the industries most prominent clashes. He boasts multiple titles from various regions under his belt. His style of clashing, uniquely voiced dubs, and live personality sets him apart from the rest." Said DuPont
Rams was once again among the very first to renew its commitment to the festival, placing its signature red andwhite via its brands on five (5) major events this year. Namely the 'Rams Price is Right' a popular segment ofthe SPIRIT Game Show, Fruta Basketball Championship, the Seven Seas Elderly Outing, Boxing Night and willbe partnering with local multimedia house SKNVibes for this year's KNOCKSHORE Stunner.
The thrill is on, as organizers continue to focus on initiatives geared towards increasing participation.
''We continue to bring people from all over to enjoy the festival, and we are looking to build on that by includingevents that would appeal to very different audiences while promoting the very same ideals. Last year saw theintroduction of our #PointMade t-shirt mas troupe, where regular people were able to come out and have funwith us without having to meet the huge price tags of extravagant costumes etc. " Dupont said.
To register for this year's T-shirt mas call (869) 765-4858/669-9094, email us at sandypointspirit@gmail.com orcontact any SPIRIT member.
Black San' Bang-A-Lang is brought to you by SPIRIT and the support of: RAMs, SKNVibes, LIME, TDC, CaribBrewery (St. Kitts and Nevis) Ltd., S.L. Lighting Services,Tombstone International, TruCapo, Dollar Stretcher,SKN HVAC Services, Humble Beginnings, Good Times Bar & Lounge, Jiggy Wine, St. Kitts Marine Works,WINNfm 98.9, Freedom Fm, ZIZ Broadcasting Corporation, St. Kitts Auto Services, St. Kitts Marine Works,Radio St. Kitts and Nevis, E&K Enterprises, SPACS Ltd, H&H Security Services, Majestic Limousine Services,Vibes Beach Bar, JowDESIGNZ, Hungry Frog Productions and YOU!!!!