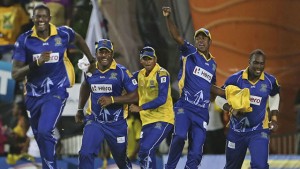 BRIDGETOWN, Barbados (CMC) – Night games have made a return to the Caribbean Premier League for this summer's edition of the tournament, with 30 of the 33 games scheduled to be played under lights.
Organisers on Tuesday announced the schedule for the June 20 to July 26 tournament which will get under way at Kensington Oval with a repeat of last year's final between eventual champions Barbados Tridents and Guyana Amazon Warriors.
Six teams – Tridents, Amazon Warriors, Jamaica Tallawahs, St Lucia Zouks, Trinidad & Tobago Red Steel and new boys St Kitts & Nevis Patriots – are all set to play 10 matches apiece in a quest for places in the semi-finals, carded for July 23 and 25 at Queen's Park Oval.
"You can sense the excitement is already building. I am thrilled that so many quality players from within the Caribbean and around the world have been attracted to play in the CPL this season," said CPL CEO Damien O'Donohoe.
"Now that the schedule has been revealed, fans can start to plan a summer of unrivalled entertainment with the biggest party in sport taking centre stage.
"There will be something for everyone this year and the action will be non-stop from 20th June until the final on Sunday, July 26."
Last year's edition featured primarily daytime fixtures, with games played at 10:30 am, midday, 2:30 pm and 4 pm. Low attendances marked several of these games.
This year, however, only three matches will be played during the day with the bulk of games carded for 6 pm, and 10 scheduled for 4 pm starts but finishing under lights.
Six matches will be played at 8 pm.
The first eight games of the tournament will be played in Barbados and St Lucia with fixtures from June 20 to June 28 before attention switches to St Kitts and Jamaica.
In a return to the format of the inaugural CPL season in 2013, the semi-finals and final will be hosted by Queen's Park Oval in Trinidad after being shifted to St Kitts last year.