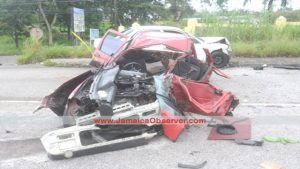 MANDEVILLE, Manchester — A mother and son from the environs of Spanish Town in St Catherine were in critical condition in hospital yesterday, while a policeman had been treated and released following an early morning motor vehicle collision in Mandeville.
Police say a Suzuki Alto motor car, with mother and son aboard, appeared to have skidded in wet conditions at the intersection of New Green Road and Patrick Road. The vehicle swerved and slammed into an unmarked police service vehicle which was travelling in the opposite direction. The crash occurred at minutes after 6:00, police say.
The two people in the Suzuki Alto were rushed to hospital and admitted in critical condition. They were said to be unconscious up to late afternoon yesterday. A district constable in the police service vehicle suffered head injuries. He was treated and eventually released.
The accident forced police to divert traffic for several hours.