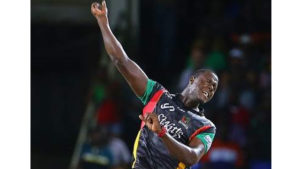 Twenty20 World Cup star Carlos Brathwaite shone with both bat and ball as St Kitts and Nevis Patriots inflicted reigning champions Trinbago Knight Riders (TKR) with their second defeat of the Caribbean Premier League here late Saturday night.
Asked to chase a challenging 204 for victory at Queen's Park Oval, TKR were held to 161 for eight off their allotted 20 overs, to slip to a 42-run defeat.
Sent in, Patriots racked up 203 for seven off their 20 overs, with Man of the Match Devon Thomas top-scoring with 58 from 34 balls and Brathwaite bludgeoning a stunning 41 from a mere 15 deliveries.
They were backed up by an unusually sedate Chris Gayle, who made 35 from 30 balls, and Australian Ben Cutting, who chipped in with an unbeaten 25.
Fast bowler Ali Khan was outstanding with three for 23 from his four overs, while off-spinner Sunil Narine finished with two for 24 from his full complement.
Left-hander Evin Lewis's wretched form continued when he fell to the second ball of the match without scoring, pulling Ali Khan to Narine at midwicket. And when Tom Cooper was brilliantly caught one-handed at first slip by Dwayne Bravo three balls later, Patriots were three runs for two wickets.
Thomas arrived to add impetus to the innings, striking nine fours and a six as he added 66 for the third wicket with Gayle and 39 for the fourth wicket with Anton Devcich (15).
When Thomas played on to Narine in the 14th over Brathwaite took responsibility for the innings, blasting a four and five sixes in posting 60 for the seventh wicket with Cutting.
In reply, TKR slumped to 34 for three in the fourth over before Kevon Cooper, with an unbeaten 42, Darren Bravo with 41, and Colin Munro, 35, added respectability to the innings.
Brathwaite proved miserly with his medium pace, finishing with two for 19 as Jeremiah Louis (2-42) and Cutting (2-43) also ended with two wickets apiece.
Narine (4) recklessly skied left-arm pacer Sheldon Cottrell to point off the third ball of the innings and Chris Lynn was undone by a Sandeep Lamichhane googly, bowled for six at 32 for two in the fourth over.
Cutting then got the prized wicket of Brendon McCullum, taken at point off a leading edge, and the in form Munro followed in the seventh over after striking six fours and a six in a 17-ball cameo, whipping Brathwaite to square leg.
Darren Bravo tried to rally the innings but lacked momentum, needing 38 balls for his knock which included a four and two sixes.
The real burst came from Cooper at number eight, the right-hander slamming two fours and four sixes off just 22 balls, but by then the game had slipped away from TKR.
SCOREBOARD
PATRIOTS
*C Gayle c Ali Khan b Cooper 35
E Lewis c Narine b Ali Khan 0
T Cooper c Bravo b Ali Khan 1
+D Thomas b Narine 58
A Devcich lbw b Bravo 15
Mahmudullah b Narine 16
B Cutting not out 25
C Brathwaite c Narine b Ali Khan 41
J Louis not out 0
Extras (lb1, w6, nb4) 11
TOTAL (7 wkts, 20 overs) 202
Did not bat: S Cottrell, S Lamichhane
Fall of wickets: 1-1, 2-3, 3-69, 4-108,
5-120, 6-141, 7-201
Bowling: Ali Khan 4-0-23-3, Gabriel 2-0-
29-0, Narine 4-0-24-2, Cooper 4-0-47-1,
DJ Bravo 3-0-52-1, Fawad Ahmed 3-0-26-0
TKR
C Lynn b Lamichhane 6
S Narine c Devcich b Cottrell 4
C Munro c Lewis b Brathwaite 35
B McCullum c Louis b Cutting 0
DM Bravo c Cutting b Louis 41
+D Ramdin c Gayle b Louis 6
*DJ Bravo c Cottrell b Cutting 10
K Cooper not out 42
Ali Khan c Devcich b Brathwaite 2
F Ahmed not out 5
Extras (lb1, w8, nb1) 10
TOTAL (8 wkts, 20 overs) 161
Did not bat: S Gabriel
Fall of wickets: 1-5, 2-32, 3-34, 4-56,
5-71, 6-95, 7-115, 8-125
Bowling: Cottrell 4-0-34-1, Brathwaite
4-1-19-2, Lamichhane 3-1-17-1, Cutting
4-0-43-2, Mahmudullah 1-0-5-0, Louis
4-0-42-2
Result: Patriots won by 42 runs
Toss: TKR
Player of the Match: Devon Thomas
Umpires: J Wilson, S George; TV – L
Reifer