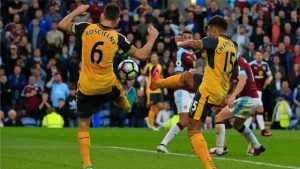 Just one day after Arsene Wenger's 20-year anniversary at the club, Laurent Koscielny scored possibly the most un-Arsenal goal to cross the line during Le Professeur's tenure, and Arsenal stole all three points in the most un-Arsenal way possible.
For 93 minutes, the Gunners labored and struggled against Burnley's pragmatic defense and simply couldn't find a way through. With both Olivier Giroud and Lucas Perez out due to injury, Alexis Sanchez started as a false 9 up front, but was left completely isolated against as Burnley sat deep in a 4-5-1, clogging the midfield and shutting Arsenal's danger men out of the game.
Burnley hit the crossbar late, and it looked like Arsenal were going to drop points, or even lose. Then, out of nowhere, Theo Walcott flicked on Sanchez's cross from a short corner, and everything went off the rails.
Alex Oxlade-Chamberlain and Koscielny both swiped at the ball, but the Ox got to it first, smashing it off Koscielny's upraised arms and into the net. It probably shouldn't have counted, but referee Craig Pawson's view was obstructed and it stood.
It was ugly. It was so, so ugly. Arsenal had dominated possession the whole match, as per usual, but Burnley's tactics were spot-on. They denied all space in midfield, didn't give up any room in behind for Arsenal's danger men, and they made Mesut Ozil put in the best impression of The Invisible Man anyone's seen in years. But yet, at the final whistle, Arsenal got three points out of nowhere. And three points is all that matters at the end of the day.