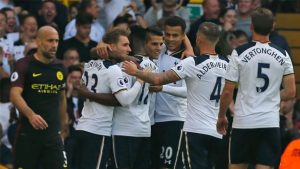 Tottenham Hotspur were off to their best start to a top flight season in more than 50 years. And that was before they thrashed Manchester City on Sunday.
To say that Spurs beat City wouldn't do their performance justice. They ran City off the pitch. The Tottenham press forced dozens of City turnovers and the home side was able to repeatedly turn that into chances of their own. Especially in the first half, Spurs looked unstoppable and their 90 minute performance was better than any other Premier League team has given all season.
And this was against Manchester City, a team that hadn't dropped a single point on the season until they walked into White Hart Lane.
Tottenham beat City with the press that Pep Guardiola normally uses to make life hell on his opponents. Whether it was Claudio Bravo all the way at the back or anyone from the City back line, Spurs were on top of them the moment they got the ball. It was a joy to watch as Tottenham moved in unison to take away time, space and anything that resembled a passing lane. Sergio Aguero and David Silva were rarely involved — and Kevin de Bruyne would have struggled to get on the ball too had he played — because City could barely get the ball out from their own half, let alone into any dangerous attacking places.
The press forced a giveaway on Spurs' first goal as Victor Wanyama took the ball away in the attacking half to spring the attack that eventually saw Danny Rose hit a cross that Aleksander Kolarov put in his own net. Whether it was Wanyama taking the ball away or Erik Lamela and Son Heung-min pressing high up the pitch, Spurs were always forcing the ball loose and picking it up.
Even when Tottenham's press didn't work, their ability to win the ball paid dividends. Their second goal was a product of their ability to win loose balls in the center of the pitch, which Erik Lamela did to spring a counterattack that saw he, Son and Dele Alli all get to run at the City defense before Sony slipped the ball in for Dele to finish.
Perhaps fittingly, Spurs' best player didn't have a goal, assist, killer pass or even crunching tackle. Christian Eriksen, who is normally revered for his passing, showed an uncanny ability to completely dictate the match with his defensive positioning as much as his distribution. Everything from tempo to where on the pitch the match was played was controlled by the Dane. Whether it was the space he took away when City had the ball or the way he shifted the Citizens' defense, then hit a pass into the space he opened up to completely unravel the back line, he was entirely in control of the other 20 players on the field.
Things could have gotten more out of hand had Lamela converted from the penalty spot after Fernandinho took Alli down in the box. But Spurs will be plenty happy to walk away with their 2-0 win, and even more happy with how they played.
Maybe most incredibly, Tottenham did it all without Harry Kane or Moussa Dembele. The injured pair didn't even dress, but it didn't seem to cause them the slightest of issues. Spurs didn't need their star striker, except maybe on the penalty, and while Dembele was the man who made the midfield work a year ago, they functioned superbly without him on Sunday.
It was just another sign of a Tottenham team that only continues to grow, showing more depth and variety than they ever did a year ago. The midfield worked without Dembele, they were able to threaten without Kane, Eric Dier wasn't needed thanks to the signing of Victor Wanyama, Moussa Sissoko gave the team another wing option and Son is miles better than he ever was last season.
Quite simply, this is the best Tottenham team in decades. They're off to their best start since 1960/61, the last time they won the league, and if that doesn't convince you, just ask Manchester City. They'll tell you just how good Mauricio Pochettino's men are.