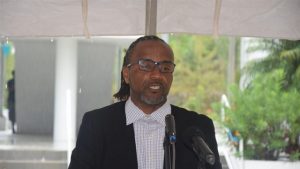 Prime Minister Phillip Davis says he has requested and accepted the resignation of Kirk Cornish as Parliamentary Secretary in the Office of the Prime Minister.
The North Abaco Member of Parliament is due to be arraigned Wednesday on charges of sexual assault and threats of death.
Cornish has issued a statement, saying the charges are based on allegations "which are totally false".
In a statement on Tuesday night, Prime Minister Davis said that he wanted to "assure the people of North Abaco that efforts to build opportunities and relief in your communities are on the way and will face no interruptions".
He said that an independent Director of Public Prosecutions has determined that there is sufficient evidence to bring charges against the legislator.
"It is now up to our judicial system to resolve the outcome, so I will not be providing additional comment except to say that my prayers are extended to all who are suffering because of this matter," Davis said.
In his statement, Cornish said: "I am fully confident that the facts which emerge during the judicial process will prove my innocence.
"I look forward to ending this nightmare. The facts will show that this was a break up that was manipulated and exploited for political reasons – and nothing more," he added.
Police launched an investigation into allegations against Cornish by a woman earlier this year.
Cornish has not resigned as the Member of Parliament for North Abaco.