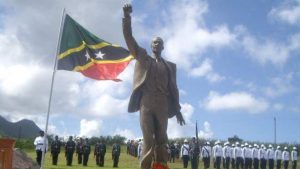 White doves will be released and one hundred school children will loose 100 balloons in the air during the wreath laying ceremony at the Robert L. Bradshaw Memorial Park on Friday 16th September, National Heroes Day – to mark the 100th Anniversary of the birth of First National Hero and Father of the Nation, the Right Excellent Sir Robert Llewellyn Bradshaw.
The wreath laying ceremony will follow a Service of Thanksgiving at the St. Paul's Parish Church to mark the 100th Anniversary of the birth of Bradshaw, former Chief Minister and Premier of St. Kitts-Nevis-Anguilla and Minister of Finance in the West Indies Federation. Bradshaw born on September 16, 1916 died on May 23rd 1978 at the age of 61.
The Service which begins at 8 am will be officiated by the clergy, led by Rev. Canon Isaiah Phillip.
During the service, chaired by Mr. Terry Morris, the Chairperson of the St. Kitts-Nevis Labour Party and Parliamentary Representative for Central Basseterre, the Hon. Marcella Liburd will read the First Lesson, while the Second Lesson will be read by President of the St. Kitts-Nevis Trades and Labour Union, Mr. Joseph O'Flaherty.
The Inspiration/Meditation will come from Canon Phillip.
Mr. Donya Francis, will render a poem/monologue; Dr. Yannick Henry, a solo; Mrs Sylvia Mills, Reflections on the Life of Sir Robert and remarks by National Political Leader of the St. Kitts-Nevis Labour Party, Leader of Her Majesty's Loyal Opposition, Privy Councillor and Parliamentary Representative for St. Christopher 6, the Rt. Hon. Dr. Denzil L. Douglas. Bradshaw's daughter, Etsu Bradshaw-Caines will deliver closing remarks.
Three of Sir Robert's favourite hymns – 'O God Our Help in Ages Past'; 'Hark the sound of Holy voices' and 'Hold the Fort' – will be sung by the congregation. The organist is Lady Hulda Lawrence.
Following the Centennial Service of Thanksgiving, the traditional laying of the wreaths will take place at the Robert L. Bradshaw Memorial Park.
Wreats will be laid at the foot of the Cuban-donated life-style statue of the revered and charismatic national hero and Father of Independence by Labour Party and Labour Union leaders family members of Sir Robert Bradshaw, Sir C. A. Paul Southwell and Sir Joseph N France; Young Labour, Labour Women, church groups and individuals. Other National Heroes are Sir Simeon Daniel and sir Kennedy Simmonds.
100 students from island wide schools will release 100 balloons; 20 white doves – each representing five years of Bradshaw will also be released to mark the 100th Birthday of Sir Robert Bradshaw.
The National Heroes Day celebration continues in St Paul's with an exhibition in the pavilion of the St. Paul's Sports Complex – the venue for a Massive National Heroes picnic from 2 p.m. Games, including cricket, football, spoon and egg, relay and sack races.
Food and drinks will be on sale and music will be provided by "Magic fingers Ronnie Rascal." A brief Rally will begin early Friday evening.