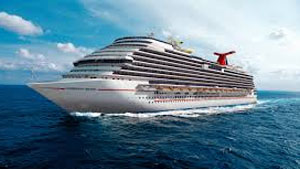 A Texas hospital lab supervisor who may have handled fluid samples from Ebola victim Thomas Eric Duncan is on a Carnival cruise ship in the Caribbean and has been quarantined on board, officials said Friday. The Texas Health Presbyterian hospital employee, who set sail from Galveston on Oct. 12, did not have "direct contact" with Duncan and "has not had a fever or demonstrated any symptoms of illness," State Department spokeswoman Jen Psaki said in a statement. Two nurses at the hospital, where Duncan died Oct. 8, have been infected by the virus – including one whose travel on a commercial flight to Cleveland prompted concerns over authorities' handling of the outbreak in the United States.
The Carnival Magic was being held off the coast of Belize Friday until the lab worker could be removed and taken back to the U.S. "At this time, the guest remains in isolation on board the ship and is not deemed to be a risk to any guests or crew," Carnival said in a statement. "It is important to reiterate that the individual has no symptoms and has been isolated in an extreme abundance of caution." The Belize Government confirmed it was in touch with U.S. authorities.
Psaki's statement noted that the worker had set sea before the Center for Disease Control stepped up its monitoring program. "It has been 19 days since the passenger may have processed the since-deceased patient's fluid samples," the statement said.