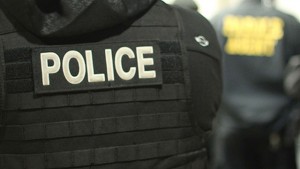 KINGSTON, Jamaica, Monday October 12, 2015 – One of the men police suspect shot up a house occupied by 10 members of a family, before firebombing it, is now in police custody as Prime Minister Portia Simpson-Miller condemned the perpetrators of the "evil act".
Lawmen are seeking others in connection with the murders that occurred in the rural parish of Hanover last Thursday.
Linett Bloomfield, 62 and her children Mark Bloomfield, 40, and Kerry-Ann Bloomfield, 36, and nephew Brian Mangaroo, 29, and Kerry-Ann's children Alliah Mahabee, 17, and Davian Mahabee, 15, were killed in the shooting and arson while four other occupants of the house have been hospitalized, including Linett's husband and the teenagers' father.
Police say about 11:30 p.m. last Thursday, the attackers called out the names of two men who lived in the wooden house before opening gunfire and then setting fire to the residence with the family inside.
When the fire was extinguished, the charred remains of six people were discovered. The other four were still alive and rushed to hospital.
During a visit to the community that has recorded 54 murders so far this year, Commissioner of Police Dr. Carl Williams confirmed that the incident stemmed from a dispute that occurred a few weeks prior.
"I am not going to speak on the details of them now, because those matters are still under investigation, but suffice it to say we have a very good sense, based upon our investigation, on what led to these killings here and we are going to use it to aid us to catch the perpetrators," he said.
The police chief assured that lawmen would not rest until all the killers were brought to justice, and appealed to citizens to cooperate with the police "to put an end to this and other senseless killings".
Prime Minister Simpson-Miller, meanwhile, condemned "the act of senseless violence" perpetrated on the family.
"This evil act has taken from us six Jamaicans, including two innocent teenagers and their mother," she said in a statement over the weekend.
"Too many among us are inflicting pain, hurt and even death as a means of resolving differences. Such acts defy comprehension and especially when carried out against a family and our young, innocent children, robbing them of the opportunity to contribute to the development of their community and country.
"I appeal to anyone who knows anything to come forward and assist the police so those responsible can be swiftly brought to justice," the Jamaican leader added.