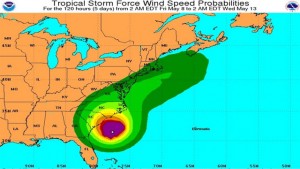 MIAMI, Florida, Friday May 8, 2015 – As the Caribbean prepares itself for next month's official start of the Atlantic hurricane season, residents of the southeastern US are expected to feel the impact of Subtropical Storm Ana, the first named storm of the season.
The sluggish Ana, which formed off the US East Coast late last night – almost a month before the season officially begins – is expected to affect part of the southeastern US with rain, wind and rough surf over the weekend.
A subtropical storm is a system that has some warm, tropical features and some cool, non-tropical features.
In its latest advisory at 5 a.m., the National Hurricane Centre in Miami reported that Ana was located 160 miles south-southeast of Myrtle Beach, South Carolina, with maximum sustained winds near 45 miles per hour. The storm was moving north-northwest at about one mile per hour.
A tropical storm watch is in effect for Edisto Beach, South Carolina, to Cape Lookout, North Carolina, which means that tropical storm conditions are possible on this stretch of coast within 48 hours.
"While there remains some uncertainty about the track of the storm, the mostly likely areas for the storm to wander onshore are from northern South Carolina to southeastern North Carolina," AccuWeather.com hurricane expert Dan Kottlowski said.
"The slow movement of the storm will bring several straight days of periods of rain to portions of the Carolinas and perhaps southeastern Georgia, with the heaviest rain falling during the afternoon and evening hours."
The risk to lives and property will be low for land areas, due to the expected minimal strength of Ana. However, there are some risks for people remaining on land and significant danger for those venturing in the surf or heading to sea. Rainfall averaging two to four inches in the coastal Carolinas will raise the risk of flooding on roadways and low-lying areas.
Persistent onshore winds will also bring the potential for coastal flooding in portions of North Carolina and southeastern Virginia, particularly at times of high tide.
AccuWeather.com also noted that while winds are not likely to become strong enough to cause widespread damage, there could be downed tree limbs, especially where locally gusty thunderstorms occur. A couple of brief tornadoes and waterspouts could be spawned by the storm.
Noted hurricane experts Philip J. Klotzbach and William M. Gray of Colorado State University have predicted that the 2015 Atlantic basin hurricane season will be one of the least active seasons since the middle of the 20th century.
The Atlantic hurricane season officially begins June 1 and ends November 30.