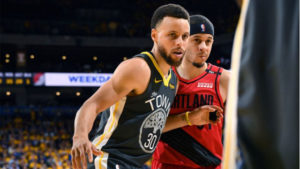 It comes without warning, so you're always on notice. It's coming. You know it. I know it. The Golden State Warriors know it. And the Portland Trail Blazers know it. And you can't stop it.
The Splash Brothers get hot, Draymond Green energizes the defense, and the Oracle Arena crowd washes over an opponent in waves until they drown in a rain of buckets. It happened twice in a 114-111 Warriors win on Thursday, spoiling both Seth Curry's best chance to outshine his brother and the Blazers' best shot to steal a road win in these Western Conference finals.
"We stole that game," Warriors coach Steve Kerr told reporters afterwards. "They outplayed us."
The first Warriors run came in the third quarter, after the Blazers played a near flawless first half. Stephen Curry ignited it three minutes after halftime, with his team trailing by 16, draining a 26-footer. A Portland turnover bled into another Curry jumper, and two Thompson 3-pointers followed. The run reached 13-0 before Mo Harkless broke it, but Green and Kevon Looney made sure Golden State's defense never relented, and by the quarter's 3:48 mark, another Thompson triple gave the Warriors their first lead since the game's first three minutes, 77-75.
It erased everything Portland had built in the first half, when C.J. McCollum scored 16 points and looked like the guy who dominated the Denver Nuggets in Game 7 of the conference semis. The Blazers got early contributions from Al-Farouq Aminu and Harkless, which usually forebodes a W. Damian Lillard didn't even score his first points until four minutes before halftime, and by then his teammates already led by double digits. There was reason to believe the Blazers could play better, and yet you still felt like the Warriors were within striking distance.
They're always within striking distance. It was Lillard's job to stop it, and he did his best, scoring six of his 23 points early in the fourth quarter to take back the lead. Seth Curry had his moment, draining a 3 that pushed Portland's lead to 105-98 midway through the fourth, and he picked his brother's pocket on the ensuing play, delighting little brothers everywhere. Then, he threw the ball all too confidently to the corner, where nobody was waiting but a benched Enes Kanter.
Stephen Curry's 37 points spoiled his brother Seth's career playoff performance. (Getty Images)
More
That's when the second run came. With Portland's guards chasing Golden State's shooters around the edges, Green was free to throw lob after lob to Looney and Andre Iguodala crashing the rim. The Oakland crowd grew louder with each attack, and Steph set them off again.
The elder Curry completed a 10-0 stretch by baiting Lillard into fouling him on a 3. Naturally, he made all three of his free throws to push his point total to 37 on the night, because he hasn't missed a freebie in the fourth quarter or overtime of a playoff game since Golden State's first championship run in 2015. These ones gave his Warriors a 110-108 lead with two minutes left.
"You can definitely credit it to experience," said Thompson. "When you play 100-plus playoff games, I'm not going to say it feels normal, but it feels like you've been there before. Even being down eight with six minutes left, you knew the game was far from out of reach. That lineup — me Andre, Steph and Draymond — have logged a lot of minutes of basketball together. Throw Kevon Looney in there, who was special tonight, and that's a mini death lineup itself."
Seth wouldn't go quietly, either. His fourth 3-pointer of the game gave the Blazers a 111-110 advantage in the final minute, but there's no stopping that momentum. These Warriors, the Warriors of old, the ones without Kevin Durant who are so fun to watch, they never stop coming. They sandwiched two beautiful baskets — another alley-oop to Looney from Green and a dish from Steph to Draymond for an easy layup — around a pair of missed McCollum jumpers.
"This was the coolest experience I've ever had playing against him," said Steph. "When you talk about the stage, and he was amazing tonight. Every minute he was out there, he was a pest. He made three big shots in the fourth quarter that were very timely. For my parents … it's probably nerve-wracking as heck, but it worked out perfectly tonight. He played well, and we won."
Lillard had one last shot to even the score, but Iguodala stripped him on a game-tying 3-point attempt with four seconds on the clock, putting the finishing touches on a demoralizing defeat.
"It's not a surprise," Green told reporters, "because he gets that strip quite a bit."
This battle of the Curry bros is a painful reminder for Portland. Steph is to Seth as the Warriors are to the Blazers — a souped-up version that won't let you forget they're better than you. With Durant on the shelf for at least another week, the Warriors celebrated this win as if this round were over. They know how different 2-0 is than a tie series, and they are that much closer to advancing to the Finals for a fifth straight season and potentially getting KD back in the process.
"Finals? … They ain't trying to go there …"
KD to Draymond in the Warriors tunnel after the game 🤫 pic.twitter.com/kzVUTF0gxH
— SportsCenter (@SportsCenter) May 17, 2019
"We're confident we can win, but we'd much rather have him playing," said Curry, "so we're going to hold the fort down until he gets back and go win another championship with our full squad."
The Warriors will enjoy this one a little longer, and we should, too, because the NBA is more exciting when they are fueled by only one MVP, even if it comes at his little brother's expense.