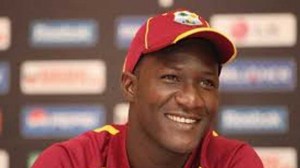 Successful former West Indies captain Darren Sammy believes the region's leading players will continue to ignore domestic cricket in favour of lucrative global Twenty20 leagues, as long as Cricket West Indies' controversial eligibility rule remains in place.
He told the Tuffers and Vaughan Cricket Show here on Monday that players returning to the Caribbean to compete in a particular format in order to be selected to the international side was counterproductive, since there was no guarantee of selection.
Sammy, a former Test and one-day captain, said CWI were also asking players to pass up valuable income.
"I can't tell a player don't go and play there (in a foreign T20 league) when you know financially you can be stable and look after your family," said Sammy, under whose leadership West Indies won T20 World titles in 2012 and 2016.