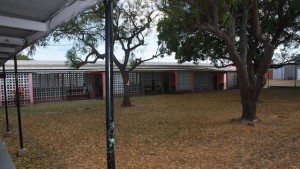 A third form student of the Christ the King High School has been rushed to hospital following a stabbing at the school today.
A witness told OBSERVER media that the student, also a third former, used scissors to inflict the wound while the two were in the bathroom.
Sources told OBSERVER media that the girls have been feuding for a while now over a relationship conflict involving another girl.
OBSERVER media will bring more details when they become available.
Another incident at the East Bus Station last Friday involving two Ottos Comprehensive Students resulted in wounding charges
The juveniles, Tejay Huggart of Golden Grove and Lester George of Cashew Hill, both 16 years old, were denied bail when they appeared before Chief Magistrate Joanne Walsh yesterday.