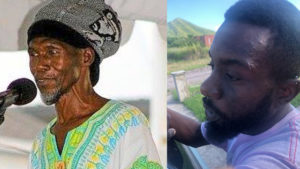 More law abiding residents in St. Kitts have accused members of the Regional Security System (RSS) of being beaten, harassed and intimidated, while local police and soldiers stand by and allow it.
The RSS has been deployed at the request of St. Kitts and Nevis' Prime Minister and Minister of National Security, Dr. Timothy Harris, following what the St. Kitts and Nevis Chamber of Industry and Commerce called a new and dangerous level of crime that has become a major threat to the peace, stability and security of St. Kitts and Nevis and to the economy.
The latest accusation was made Saturday by well-known Eli "Ras Eli X" Freeman, who called into WINNFM's "Inside the News" hosted by former Minister of National Security, Dwyer Astaphan.
He said he was at the Ferry and Bus Terminal on Friday morning around two 'o' clock when P 26 drove up and "men rushed out with guns and one of them started manhandling me."
"I objected. He did not even make a sound. I objected and when I objected here comes a barrage of bad words. One of them was cursing my mother's private parts and you know, I picked up the foreign accent. They pushed me up against a wall. This is the first time I am speaking publicly about it. I have evidence to prove. I want to say publicly that I will not tolerate excesses and disrespect from these people," said Eli X, whose presentation was cut short when he warned "that if I ever have this experience again, I will be the worst criminal that St. Kitts and Nevis have ever seen."
Shadwell resident Frumentius "Mentius" Eddy alleging that on October 13, he was riding on the Shadwell main road going home, when he was held by RSS and local soldiers and police, placed in the back of a pickup and taken to a place where Lascelles Rawlins Egg Farm is situated and beaten.
Eddy further alleges his watch, a gold bracelet and $200 cash were taken from him.
A complaint was filed at the Basseterre Police Station. He was asked to take them where the beating took place and on arrival his keys and other personal possessions were found on the ground.
"The police say they are investigating and will get back to him. They have not done so and he intends to retain a lawyer to deal with the matter," a reliable source said on Sunday.
In the first of two Conaree incidents, the RSS and local police reportedly broke down the door of a residence around 1:30 A.M. while the male, his girlfriend and 8-year-old son were asleep.
"They said they had a search warrant and that they are looking for drugs and guns and ammunition. My 8-year-old son is traumatised and could not go back to sleep. He couldn't even make it to school as he has never seen something like this before; all these officers with big guns in his face. My girlfriend was just in her underwear. She told them that she needed to put clothes on first, but they still came in the bedroom while she was still naked," he said, adding: "I have been a law-abiding citizen of St. Kitts for years and have never been arrested in my life. Why have they targeted me?"
In Conaree, a group of men and youths who normally play dominoes posted "since the RSS arrive we are being harassed."
"This morning they passed and they searched us, they ain't find anything. This afternoon, we back there playing dominoes, bam, they come again and search us and they still ain't find anything."
"Mind you we didn't give them any trouble. We let them do their thing. You know one of the foreign police break up one of the stool and mash up the table and telling us bout he don't want to see us back there playing any dominoes. Is months now we do be there playing dominoes and no local police ever had a problem with us. But you know what hurt me the most, the local police does just stand back and watch and allow them to do whatever they want. Is like the prime minister bring them here to terrorize people. Is only a matter of time before they shoot someone innocently then what? The government brought them here to assist, not harass people who don't be in anything. This is ridiculous now the RSS need to leave the country and the government need to go with them too."
These new developments follow the beating of Eric 'Juni' Thompson by a squad of RSS and local police, resulting in injuries including at least three broken ribs and bruising to other parts of his body.
Thompson's uncle, former assistant comptroller of customs and social activist, Terry Adams has accused the local police of intimidating tactics.
An individual reported witnessing an RSS personnel slapping off a youth and another who said the RSS patrol who took away his army fatigue pant and he had to walk it home in his boxer.