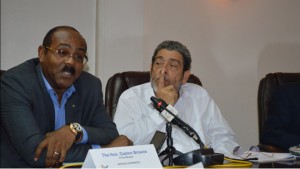 Two regional prime ministers and a vocal Caribbean trade unionist are taking issue with the refusal of St Kitts & Nevis, the sub-region's fastest economy, to invest in LIAT.
Prime Minister Gaston Browne said other countries which benefit from LIAT but do not wish to invest in it "were taking a very selfish position."
"You cannot have a situation where they continue equitably in the benefits of LIAT, but at the same time do now wish to share in any of its burden," Browne told a LIAT shareholder governments' news conference here yesterday.
He reiterated his appeal for "the other countries within the region to reconsider their position."
St Kitts & Nevis Prime Minister Dr Timothy Harris told OBSERVER media last week that he would want to see LIAT demonstrate some level of financial viability before investing in it, but Browne said he has heard enough "tired excuses."
Chairman of the LIAT shareholder government St Vincent & the Grenadines Prime Minister Dr Ralph Gonsalves said he did not hear the remarks by his colleague, but promised to raise it with him when next they spoke.