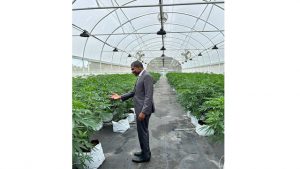 Prime Minister of St Kitts and Nevis Dr Terrance Drew, recently visited the CANNA SVG Medicinal Cannabis Farm located in St Vincent and the Grenadines, a move seen as a vital step in the endeavours of St Kitts and Nevis to establish its own cannabis sector.
The CANNA SVG Medicinal Cannabis Farm has distinguished itself as a specialist medical-grade cannabis manufacturer, utilising state-of-the-art technologies and a profound understanding of the industry to consistently yield premium medical cannabis products.
"The Prime Minister's visit to CANNA SVG Medicinal Cannabis Farm has provided invaluable insights that will undoubtedly shape the future of Saint Kitts and Nevis' own cannabis industry," said the Prime Minister's office in a statement.
Drew, who was accompanied by the Permanent Secretary in his office, Naeemah Hazelle, witnessed the advanced technologies employed by CANNA SVG.
These technologies have played a pivotal role in ensuring consistent quality, optimal growth conditions, and efficient production processes.
According to the statement, by adopting similar technologies, St. Kitts and Nevis can elevate its medical cannabis production capabilities, ensuring high-quality products for patients and establishing credibility in the global market.
"One of the main benefits of introducing the cannabis industry to St Kitts and Nevis lies in economic diversification and growth. Establishing a medical cannabis industry can create a multi-faceted impact, including job creation, revenue generation, and global recognition," the statement added.