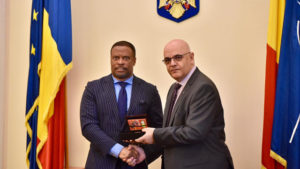 Foreign Affairs Minister, Nevis Premier Mark Brantley is crediting the Nevis Island Administration and federal government's prompt legislative response to the EU's most recent threat of blacklisting for St. Kitts and Nevis being excluded from the Euro bloc's revised black-list of non-cooperative jurisdictions.
During Tuesday's ECOFIN ministers' meeting in Brussels, EU Finance Ministers revealed a revised tax haven blacklist that included several Caribbean countries. St. Kitts and Nevis was not among those listed.
Against the back drop of the European Union deeming St Kitts and Nevis as a country with harmful tax practices, the Nevis Island Assembly held an urgent session on December 24, 2018 to amend key financial Ordinances.
Premier Brantley, the NIA Minister responsible for Finance, said passing the pieces of legislation was critical to the survival of Nevis' financial services sector, which contributes an average 10% of the island's direct revenue each year.
Premier Brantley said "I am delighted that through quick action on Christmas Eve Nevis and its critical financial services sector were spared the worse outcome from the EU dictats. I commit to continued vigilance and partnership with the sector in Nevis to ensure that we adhere to the highest possible global standards."
The Premier said however that he could not celebrate while his brothers and sisters in Barbados, Trinidad and Tobago, Dominica, the US Virgin Islands and others in the region were subjected to the wrath of the EU being listed as non-cooperative jurisdictions.
"On this as on many issues the Caribbean must either swim together or drown alone. Caricom has started the diplomatic effort continued over the past few days by us in the wintry climes of Bucharest. We must never relent in the defense of our hard won sovereignty and our right to exist in this world. We desire partnership not confrontation and the EU must understand that might must never be allowed to masquerade as right."
In an interview with Freedom FM Premier Brantley spoke to the potential effects blacklisting would have on the economy of small island developing states such as St. Kitts and Nevis.
"Blacklisting poses a very real reputational harm to a country. It puts at risk the investment environment and puts at risk our banking system, and therefore is unacceptable.
"It also of course gives the impression that our nations are rogue nations when indeed they are not and we remain committed to a fair and workable global system."