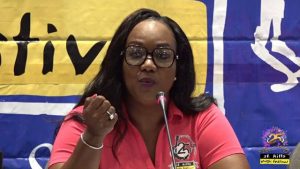 The stage is set for the 25th staging of the Saint Kitts Music Festival and organisers are promising an experience like no other.
During a press conference held at the Mariott on Monday, organisers and event stakeholders joined forces to remind would-be patrons of just what they could expect at this year's event.
Tourism Minister Marsha Henderson said this music festival isn't just a stage show.
"I like to say to our stakeholders, we would have it being run by the Ministry of Entertainment, but it's under the Ministry of Tourism for a reason. And that is because the product is supposed to bring visitors to our destination. And that is happening because the flights are filled… So this is doing what it is supposed to do and hopefully, it generates economic activity for our people. So it's not just a music festival, but it's with our ministry for that reason, and we want us to be on our best behaviour."
Minister Henderson urged citizens of Saint Kitts and Nevis to treat those who travelled to the Federation for the music festival, as they would guests at their homes.
"When our visitors are here we hope that they would indulge in all that we have to see. We hope that they would go to the beaches patronise our restaurants or hotels, they stay at hotels, and we hope that they would go and venture deeper and immerse themselves into the destination as well."
Chairman of the Saint Kitts Music Festival Committee, Alister Williams said the Saint Kitts Music Festival was created to ensure that there's something for everyone.
I want to start off by saying that what started out as a simple idea in 1996 blossomed into an event unmatched by any measure. Over the years we stayed true to our vision of creating a different type of music festival to what was the prevailing trend at that time and at that time. Jazz was the art of the day, we decided to take a different road. We wanted to produce something more unique, more interesting. And so we decided we're gonna go with a music festival, which gave us the latitude to introduce new and enriching genres of music so that an entire family, the entire group of friends can come and enjoy and we have done that over the years and we have remained for 20 plus years in the marketplace. And, of course, many of our competitors in the region tried to do likewise for some it was a bit too late. But for others, they lasted a while but to me, we are the only one last the last one standing and it's because of the support that we have received over the years.
Attendees are being urged to get to the venue on time.
Chair of Production, Azem Bailey responded to concerns about the length of the three-night event. He said steps are being taken to ensure patrons make it home before the sun comes up.
"One of the concerns that people might have would have been the length of the festival. Seeing that we have such a packed night and guys I want to assure you that I want to be able to get home before the sun comes up so they can come back for the next night. I don't know about y'all, but I want to make sure that I come the next night ready for what is on the stage, making sure that I could enjoy every second of it. And so, as part of the production, we are really pushing to ensure that the festival is run tight and run smooth. And we really don't want you guys to miss it. So make sure you guys come out early and come on time. Come up with your dancing shoes on for an amazing festival in my opinion one that could be the best one yet."
Chief Executive Officer of the Tourism Authority, Ellison 'Tommy' Thompson, joined his colleagues in expounding on the virtues of this year's event.
"It's a really exciting time for us in St. Kitts, especially the Tourism Authority. It gives us something to really market during the summer months that are traditionally kind of slow. So we're very, very happy that American Airlines has put on additional flights on the 21st and the 25th. And this is actually the first international festival that they've actually done this for. Anytime they've done it it's been for the domestic festival in the United States. So St. Kitts, again, a home run for us."
According to Thompson, one of the advantages of summer fun is that it presents an opportunity to really market Saint Kitts, moving away from a seasonal destination into a year-round destination.
"That is definitely the strategy that we're pursuing. And the fact that next year we're going to have Jet Blue that's going to be flying year-round is going to give us better penetration out of the US market. And we're also going to have United flying up until August. So definitely we can be putting some more effort into those markets. To get more international guests from North America. For us, the Caribbean used to be the second largest market, we're now moving back to get that dominance back again."
He noted that the Caribbean market is event-driven so the Music Festival and all other events scheduled to kick-off this summer, are perfect to attract more visitors.
Among the other events on the Summer calendar are:
Nevis Mango Festival
Culturama
Restaurant Week
CPL
"So all in all, this is a great event and I think everybody is going to have a great time and we want to make sure that our visitors come here, they have a great time. Again, tell their family and friends to come back. We're going to make sure that the wealth of tourism now through this festival gets spread out throughout the community. So allow vendors, taxi drivers, excursion operators, everybody benefits from this. So that's what we really want to make sure happens that the economic value, the economic benefits from this concept goes throughout the community," Thompson said.