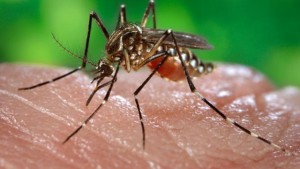 St Kitts and Nevis is at risk for a dengue outbreak, according to the Ministry of Health (MOH).
The ministry said increased rainfall associated with the passage of Tropical Storm Philippe has amplified areas where the Aedes aegypti mosquitoes can breed and spread diseases such as dengue, zika, and chikungunya.
There has been an upsurge in dengue cases across Latin America and the Caribbean.
Dengue is transmitted when female Aedes aegypti mosquitoes, which are prevalent in St Kitts and Nevis, bites a human.
The MOH is urging the public to take precautions against mosquito-related diseases.
The most effective way to prevent the spread of mosquito-borne viruses is to avoid being bitten. This can be done by using mosquito repellent, wearing long sleeves and pants, and avoiding areas where mosquitoes are present.
Additionally, islanders have been advised to cover their water storage containers, replenish water in vases/pet drinking troughs daily, store old and used tyres in a dry place and cut vegetation around their property.