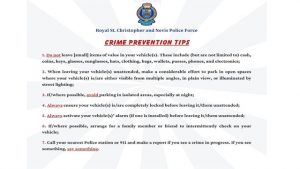 Over the past two months, an uptick has been recorded in the number and frequency of robberies, larcenies and thefts in the Federation of St Kitts and Nevis.
For the month of April, two males have been arrested and charged for a number of armed robberies committed in St Kitts.
The island's Police Force is calling on the public to be vigilant, especially when leaving their possessions unattended in their vehicle for long extended periods.
The Royal St Christopher and Nevis Police Force (RSCNPF) notes there is an increase in large social gatherings, fetes, events, and festivals during the Summer months.
This increase in socialising creates a number of conditions and situations in which criminal elements feel emboldened to commit nefarious acts against law-abiding citizens and residents.
The Police Force says such was the case on May 28, 2023, when multiple larcenies on unattended vehicles were reported as having occurred at Reggae Beach, Southeast Peninsula.
The public is being urged to take precautionary measures within their civilian capacity to safeguard themselves and their possessions from wilful individuals.
The RSCNPF strongly condemns all acts of violence, vandalism, theft, and any legal infractions or illegal acts committed against one or many.
The Police Force holds chief responsibility for the safety and security of all citizens, residents, and visitors in the Federation. However, the Police Force notes its work stands only to be augmented when each law-abiding individual also pays due care and attention to his/her personal safety and security.