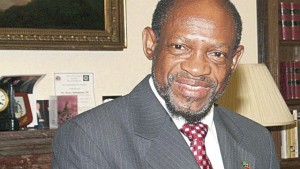 The opposition St. Kitts-Nevis Labour Party (SKNLP) has expressed concern over what it says is the "rash decision of the Prime Minister and Minister of National Security of St. Kitts and Nevis, Dr. Hon. Timothy Harris, to seek to mobilise, yet again, the forces of the Regional Security System (RSS) into St. Kitts and Nevis in the manner and circumstances that he has, and with the sole purpose of pursuing his bane political objectives in the territory of St. Kitts and Nevis."
"It is quite apparent from all that is taking place within the Royal St. Christopher and Nevis Police Force that the Prime Minister is seeking for political purposes by and large to dismantle the Force by discarding selected senior officers so as to install his acolytes," Leader of the Opposition, the right Hon. Dr. Denzil L. Douglas said in a letter on Wednesday to the Chairman of the Authority of the Organisation of Eastern Caribbean States (OECS), Dr. the Hon. Ralph Gonsalves.
Dr. Douglas noted that since Dr. Harris took office St. Kitts and Nevis "has felt a palpable shift away from our tradition of democracy towards dictatorship."
"The Opposition is being systematically stifled through the illegal curtailment of our right to speak in Parliament, denial of access to public spaces such as community centres, and denial of access to the state-owned radio and television," he said.
Dr. Douglas said the opposition has learnt through intelligence that the next phase of Dr. Harris' campaign of dictatorship will be the imprisonment of members of the Opposition and key opposition supporters.
"Over the last four months, two police sergeants resident in my district (and who performed close protection services to me as a former Prime Minister) have been shot under unexplainable circumstances. Neither of the two officers was on duty or in any confrontation with anyone at the relevant time. Two of the persons who were allegedly involved in the shooting death of the police officers have themselves been executed in shoot-outs, one of which involved the Police and the other under strange circumstances," said former prime minister Douglas.
He pointed out that on September 20th, a police officer who had been off duty and assisting him with driving services at the National Independence Parade the day before, was locked up overnight in his service uniform without bail.
"He was charged for driving with an expired driver's licence which under our laws is a ticketable offence with a maximum penalty of a fine of EC$2,000. He was subsequently released on a EC$20,000 bail and sent on suspension. When the matter came up for trial on October 4th, it was traversed to November 29th," said Dr. Douglas.
"As I write this letter, the Chief of Police is on a 5-week vacation and it is intended, we have been reliably informed, to have the said Chief of Police proceed on a prolonged leave for about one full year. In the meantime, other senior officers such as Assistant Commissioners of Police are being sent on forced leave and replaced by officers who are personally sworn to Prime Minister Harris," said Dr. Douglas, who also pointed to what he calls "a significant number of Jamaican police officers have been recruited to assist Dr. Harris in instituting his impending reign of terror."
"As it stands, we firmly believe that certain substantive holders of senior positions in the Police Force, such as the Chief of Police, have not been made aware of the plan to mobilise the forces of the RSS into St. Kitts and Nevis, and that senior Ministry of National Security officials are not supportive of the Prime Minister's directive to have the RSS deployed into the country for mere political purposes," the letter to Prime Minister Gonsalves said.
Dr. Douglas, who served as Head of Government for 20 years said he is "concerned that the Prime Minister is abusing his position and authority and is seeking to use the RSS to buttress the local forces, which he has deliberately emasculated to assist him in his campaign of dictatorship and terror. This is particularly concerning especially at a time when he is actively contemplating calling general elections."
"I believe it is my duty to raise the foregoing issues so that they could be taken into consideration in any relevant decision-making process at your level," Dr. Douglas said.