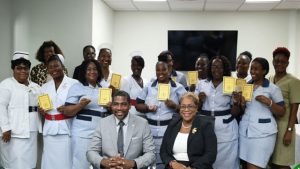 Nurses who had undergone training at universities in Cuba have had their licenses reinstated.
In 2013, several nurses who pursued training opportunities in Havana and gained General Nursing Certificates as well as Associate Degrees in Nursing, were not recognised by the St Christopher and Nevis Nurses and Midwives Council upon returning to the twin island Federation
However, only those who completed the Bachelor of Science Degrees in Nursing were licensed with the St Christopher and Nevis Nurses and Midwives Council in 2013, but their licensures were rescinded in 2015.
But at a special ceremony at the JNF General Hospital on Tuesday, Prime Minister and Minister of Health, Dr Terrance Drew, formally recognized the 12 nurses' achievements and reinstatement status as Licensed Registered Nurses.
"There need to be some reparations, and I will see how much compensation we can give for what you suffered," said Prime Minister Drew, a first class Honours graduate from Institute Superior De Ciencas Medicas in Santa Clara in Cuba.
"The Nursing Council, now, has revisited your situation and they have taken, in my estimation, the correct action, and today what has been delayed for almost a decade, you are now being accepted fully as nurses in the industry. I have worked with you. I have seen how you work. In my estimation, there is no deficiency. You are as qualified as any other nurse to work.
"I want to encourage you to continue to be the professionals that you are…I want you to take to heart the new thrust that the Nursing Council has taken in terms of really bringing you fully into the profession. I know you follow the codes of Nightingale who set the trail for what the nursing profession is all about. I encourage you to stay close to the ethos of the basis from which the profession was formed."
Cuba has been providing scholarships and other healthcare support to Caribbean countries and a government statement said that the reinstatement of the licenses serves as a testament to the government's unwavering support for healthcare professionals and its commitment to enhancing the nation's healthcare infrastructure.
It said that since assuming office in August 2022, Prime Minister Drew's government has launched numerous other endeavours aimed at enhancing the quality of life for nurses in the Federation including ensuring that nurses were fairly compensated for their invaluable contributions during the COVID-19 pandemic.
It said modifications to regulations now permit nurses to renew their registration biennially, aligning with prevalent practices in the region and around the world.
"Uniform adjustments were implemented to prioritise the safety of nurses by eliminating caps and belts. Additionally, unprecedented scholarship opportunities were introduced, enabling nurses to receive full salaries while pursuing their studies for the very first time," the statement added.