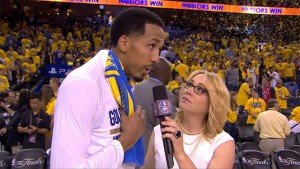 OAKLAND, Calif. — Basketball is bigger than Stephen Curry and LeBron James, even if it doesn't feel that way at times. This NBA Finals is billed as a battle of superstars, perhaps a test to see who reigns as "face of the league." The Golden State Warriors' 104-89 Game 1 victory over the Cleveland Cavaliers served as a reminder that stars aren't the cosmos, and that the teams beyond the stars matter immensely.
When Curry was asked Wednesday if he had surpassed James as the NBA's favored visage, he rejected the premise. "It's really annoying for me," Curry said. "That's not what I'm playing for, to be the face of the NBA or to be this or that or to take LeBron's throne or whatever. You know, I'm trying to chase rings, and that's all I'm about. So, that's where the conversation stops for me."
That has been a Curry talking point of late, the idea that his responsibility is to do his job, that he's merely working in service of a great team. It's a sentiment he validated by playing poorly Thursday (4-of-15, 11 points), as his team still managed to control the Cavs. It's a sentiment that's perhaps especially true in Oakland, where coach Steve Kerr's bench tends to perform far better.
Who were the stars Thursday? Shaun Livingston burned brightest, having suddenly reanimated from the deep carbonite freeze of the Oklahoma City series. Freed of the harrowing Thunder length, Livingston was brilliant, scoring 20 points on 8-of-10 shooting.
"Well, I think, first of all, [Livingston] just played a great game, but I thought he looked for openings," Kerr said. "He was very aggressive. And, you know, this was a strange game for us. We're not used to having both Steph and Klay off like that with their shooting. But the one thing we've talked about all year is if we defend and take care of the ball, then we're always going to have somebody score enough points for us, whether it's the starters or the bench."
Another bench standout was Leandro Barbosa, who, between back massages on the bench, shot 5-for-5. "I thought LB was great," Kerr said. "He's still very fast. Maybe not as fast as he was five years ago, but he's still a guy who loves to get up-and-down the floor. He came in and gave us a huge lift. Got a couple layups to go early, tough layups, and then made that 3 in the corner. Just really played an excellent game, 11 points in 11-and-a-half minutes. Pretty good production."
And of course, there was super-sub Andre Iguodala, who had a little something to do with James' underwhelming performance (James went 9-of-21 for 23 points). Golden State began with Harrison Barnes starting on James, an act of faith rewarded by three quick Barnes buckets. But, James started slashing into the paint with little resistance, prompting the substitution for Iguodala. Again, Iguodala played James beautifully, using his swipe-down tactic to create turnovers and generally frustrate him.
"Yeah, I mean, Andre is a brilliant basketball player," Kerr said. "He doesn't get enough credit. You look at his stat line and his line never usually tells the story, but 12 points, seven boards, six assists, no turnovers and great defense."
At the end of the third quarter, Iguodala attempted to go two-for-one, only to get interrupted by Matthew Dellavedova, who infuriated Iguodala when his fist made contact with the forward's groin, prompting a stoppage of play and common foul on Dellavedova. Whether by inspiration or coincidence, the Warriors went on a 17-4 run from there and never looked back.
"[Iguodala is] one of the smartest players I've ever been around at both ends of the floor," Kerr continued. "So he understands angles, he anticipates plays, he anticipates moves from individual players. He studies his opponents, and he's smart. He doesn't reach very often. He only reaches when he feels like he's got a chance to make a steal. He's very rarely in foul trouble as a result."
In the end, Curry and Klay Thompson combined for 20 points on 27 shots. And in the end, it didn't matter. That's a dark fact for Cleveland to face: On an night when the Warriors' stars weren't burning, the Cavs still got torched.