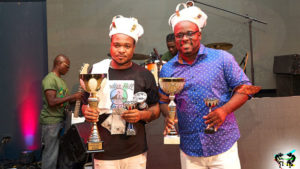 It was a Soca bacchanal in the Nevis cultural Village Thursday night that saw two new kings crowned in the National Bank Soca Monarch Competition.
Xman trumped the 2018 groovy monarch Speedy with a crown winning 388 points for No Place I'd Rather Be.
Meanwhile Speedy took the Power Soca crown from his bandmate Delly Ranks with 383 points for Ready.
Rounding out the top spots for the Culturama Soca Monarch were Groovy 1st runner up: Speedy & Delly Ranks with Make Bacchanal (371 points) and 2nd runner up Irveeeka with Rescue Me (368 points).
In the power category 1st runner up went to Delly Ranks for Yeehaw (365 points) and 2nd runner up to Ras BRowne with Hands Up, Hands Up (357 points).
Speaking with Freedom FM Soca Subcommittee Chairman Remigio Powell congratulated the winners, those who placed and the other competitors. He said it was a close and exciting competition with excellent music offered by the local artistes.