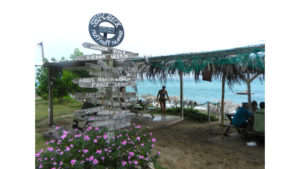 Freedom Fm continues to be inundated with calls from bar owners and businesses located at South Friars Bay, protesting the fact that they have been asked to leave by the end of February 2018.
Indications are that letters were sent out to all the bar owners indicating that the land had been sold to a conglomerate and as such their leases had been terminated with immediate effect, according to reliable sources.
This decision would adversely effect the Shipwreck Bar, Discovery Beach Bar and Mongoose Bar & Grill. Former broadcaster Toni Frederick took to FB to express her concerns over this matter.
"So essentially there will be no swimmable beaches on the Caribbean Sea, that aren't a lengthy drive from where most people live, that don't have a huge hotel or in the case of Frigate Bay a huge, ugly plastic recreational park sitting in the water.
I don't buy the 'it's private property' argument. Building and zoning permission still comes from the authorities. It's not enough to say we have access to beaches…we'd like to ones that aren't over-developed, and landscapes that aren't chock-o-block with massive structures.
We're fast becoming just another, predictable tourist trap. My heart is heavy."
Meanwhile callers took to the popular Issues talk show on Freedom fm to ventilate their strong opposition to the move, citing that getting rid of the bars at Friars Bay would hurt St Kitts and take away from the unique local experience these bars bring to St Kitts-Nevis.