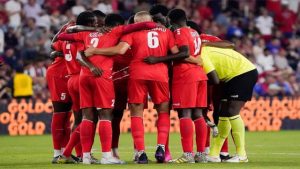 The St Kitts and Nevis Football Federation (SKNFA) has selected a 21-man team for their upcoming CONCACAF Nations League matches.
The team is made up of both local and foreign-based players.
The goalkeepers are Julani Archibald, Jamal Jeffers, Clifford Samuel.
The defence players are Lois Maynard, Andre Burley, Denis Flemming, Anwa Springer, Malique Roberts, Jalden Myers, Raheem Somersall, Yohannes Mitchum, Mervin Lewis, Alex Charles, Nequan Browne, Kalonji Clarke, Steve Archibald, G'vaune Amory.
The forwards are Keithroy Freeman, Ronaldo Belgrove, Tiquanny Williams, Javern Matthew and Kimaree Rogers.
Head Coach Austin Huggins told the SKNFA that the players are ready to compete and have their eyes set on the CONCACAF Gold Cup.
"Everything is going along nicely. The guys are looking forward for the opportunity to play again so that we can match onto the Gold Cup again in America," he said.
There are a number of youth players on the squad and Huggins said this was deliberately done to give them a chance to build themselves in time for next year's World Cup qualifiers.
The Sugar Boyz will open their campaign against Guadeloupe at the SKNFA Technical Centre.
Three days later they will travel to St Lucia for their second match.