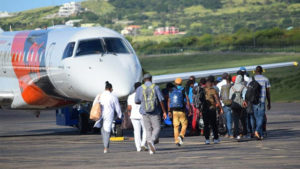 The Government of St. Kitts and Nevis has repatriated the 49 illegal Haitian migrants to their home country via chartered flights from Robert L. Bradshaw International Airport.
Chief of Immigration Mercylyn Hughes confirmed with Freedom FM that the immigrants left St. Kitts Thursday morning.
15 of those migrants had been detained after they turned up at a local hotel on October 20 and police were called in. According to the authorities the 13 males and 2 females- one of whom is pregnant, arrived at the country's shores by boat in the Newtown area that night. They said they had left Dominica where they had been living and working for a period of time and were supposed to be taken to French St. Martin. The captain of the boat however left them in Basseterre, telling them that they had reached their intended destination of French St. Martin.
Later that same week on the 23rd, the Dutch Coast Guard intercepted a boat that was reportedly in distress and requested the St. Kitts-Nevis Coast Guard rescue the boat-load of Haitians by taking them to the nearest port, which was Basseterre.
The 34 Haitians- 27 males and seven females (one of whom is a juvenile and two of whom are pregnant) and one Dominican were detained for processing. The captain of the boat, who is from Dominica, had been convicted previously for drugs, firearms and smuggling, and remains in police custody.
The government issued a statement Thursday assuring that the detainees had been "treated with dignity and respect and had been provided with the best care in accordance with international human rights law". The statement further informed that the Government held discussions with Haiti's government, the United Nations' International Organization for Migration, the CARICOM Secretary-General, the local arm of the Red Cross, and the local Haitian Association before taking the decision to send the immigrants back to Haiti.
Immigration Chief told Freedom FM the illegal Dominica national will be repatriated as well.