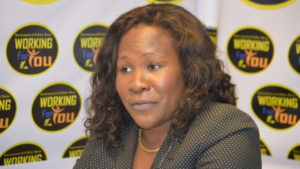 The St. Kitts Electricity Company SKELEC generated almost 100 million dollars in revenue from billing consumers for the year ended July 2019.
This is according to Pearl Williams, Finance Manager of SKELEC. She said however, SKELEC pays out about 80% of that in fuel costs.
"At present at SKELEC our main source of revenue is from the billing. Every month we bill our customers based on the tariffs and we expect our customers to pay us. At present on a monthly basis, SKELEC bills between 8 and 9 million dollars; it can fluctuate depending on the time of year.
"Billing fluctuates from month to month. Our financial year starts in August and it ends in July and the sales for the year to date was 98 million dollars, and for the same period the amount we spent on fuel was about $84 million. So right away you see about 80% of our revenue goes straight into our fuel."
According to the CFO, SKELEC, through the government, absorbs the Fuel variation charge, which results in huge savings for consumers. The Fuel variation charge is calculated based on the price of oil, which fluctuates. As a result of the government's subsidy, consumers in St. Kitts pay the second lowest electricity tariff in the region.
Mrs. Williams stressed the need for consumers to pay their electricity bills, pointing out that if SKELEC does not collect enough money, it would not be able to maintain its operations and meet its obligations to those same consumers.
SKELEC is offering a deferred payment plan for persons to get out from under arrears. Mrs. Williams said consumers should make every connect to pay their bills in full to avoid disconnection of their service.