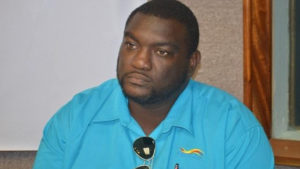 The St. Kitts Electricity Company SKELEC is currently generating more than 12 MegaWatts below its installed capacity, however officials for the sole electricity company on the island says they are still able to meet consumers' demand for power.
Clement Jomo Williams Acting General Manager of SKELEC, explained that the company has an installed capacity of 44.9 MW but is presently generating only 32.2 MW.
"The installed capacity at the Needsmust power station is 44.9 MW. Now, the installed capacity is one thing-over the years a lot of the engines require certain maintenance and as such our available operating capacity can change from time to time. Currently our available operating capacity is 32.2 MW. This is mainly because one of the MAN 18Vs engines is currently down for repairs, it's getting a full overhaul, and one of the Caterpillars 3516sis currently down for repairs as well with a radiator leak.
"Now, the important figure that goes along with this is our demand. Currently our demand is approximately 28.6 MW, so you see, we are comfortably able to clear our capacity, but because we have one engine down currently, overall we are not that extremely comfortable. So until we get that engine back up and running we will not be as comfortable."
The General Manager says with more large hotels and other developments coming on stream, peak demand for electricity is expected to increase in 2020, so SKELEC has a plan in place to ensure it can increase its generating capacity to accommodate this.
"Of course [demand] is expected to increase. We actually anticipate that as early as next year our peak demand will be somewhere around 30.5 MW, so you can see, having right now 32.2 MW available to us out of 44MW, once we complete the overhaul on the engine and we repair the Caterpillar, our capacity will move from 32.2 MW to approximately 37.9MW available. So even if demand increases to 30MW next year we will still be quite comfortable in producing enough electricity for the upcoming year.
"Now the years to come, the projections are not that possible right now without further information as to the developments. We tend to be very cautious when forecasting two or three years down the road when it comes to large developments."
Freedom FM understands that the government and SKELEC has entered into a partnership with an energy storage solution company based in Switzerland to Build a 35.6 MW solar energy plant and 44.2 MegaWatt Hour battery storage facility on St. Kitts.