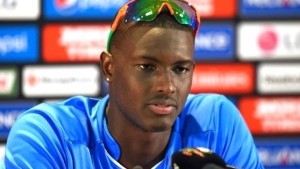 Former West Indies captain and one of the team's most successful leaders Sir Vivian Richards has thrown his support behind current skipper Jason Holder as the 24 year old's leadership capabilities comes under.
The regional squad has surrendered their three Test Series to Australia down under after losing the first two matches.
According to Sir Viv, however, once given the support, Holder's captaincy can be a successful one.
"We would have had the same demoralising factor in 1975/76 but we left with the understanding that we have a mission to fulfill. We'd learnt well, we found out on that particular tour exactly what it's like to be competitive and if you are strong in mind enough and with the talent you bring and the hard work that goes with the whole process, you can have success," he said.
"It's all about how the guys apparently appreciate one another is going to be of enormous help and the support that this young captain gets as well because at times, it looked to me in this particular series that he lacked that at various points."
West Indies loss the first Test by an innings and 212 runs in Hobart before losing the second by 177 runs in Melbourne.
According to Sir Viv, it's not been all doom and gloom for the regional side against the highly competitive Australians.
"I think the Brathwaites have been highly competitive and look at young Bravo. I felt that just what he did in terms of occupying the crease, the century that he scored down under and all that can hold them in good stead for the future because Marlon Samuels looks a little bit off key in terms of his batting," the former player said.
"You are looking for people like young Bravo now and especially the way he batted and occupied the crease for such lengthy time that he can now look to be a leader in the future and everyone else works around him," he added.
The batsman, who amassed a total of 8,540 runs at an average of 50.24 during his career, also expressed confidence in Marlon Samuel whose performances with the bat have also come in for public criticism.
"I think he is a magnificent cricketer. There are a few little issues that I think, just watching from the side of the fence in terms of his technique at this stage, because I am not quite sure what's happening with his left foot. The left foot plays such a huge part in how you are going to get forward and get to the pitch of deliveries and there seems to be a little problem there at present," Sir Viv said.
"I would never say never because Marlon is a fighter and I am hoping that this is just a little blip in terms of his batting," he added.
West Indies ended day two of the third and final Test against Australia on 248/7 off 86.2 overs.