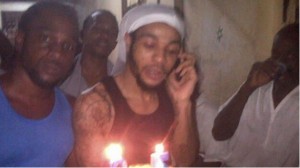 The prison officer, speaking on the condition of anonymity, recounted to OBSERVER media a tale of sex and drugs at a prison controlled by powerful gang-leader inmates and condoned by corrupt senior prison officers.
"There are a few officers who should not be in the prison because they bring stuff for inmates. Drugs, rum, cigarettes, phones, etcetera, and the administration knows who they are because they always telling them to stop and (they) take away the items," the source alleged.
The prison officer said reports of contraband being smuggled into the prison only reach the public if police officers catch errant guards in the act.
There have been several security breaches at the prison this year, including the June escape of triple murder convict Avie Howell, who was later shot by police during his recapture and subsequently died in hospital. Fraud accused Kenroy Laurie Marshall, who had escaped police custody on previous occasions, also broke out of prison the same time as Howell. Both men were housed in the maximum security wing.
The most recent fugitive, Trevor Jacobs Jr is still at large after he escaped from HMP on the weekend. He was facing murder charges over the stabbing death of fellow prisoner Akeem Browne, which occurred in HMP in August.
Earlier in June, prison officer Michael Mourillon was caught by police as he tried to smuggle marijuana, cell phones, and lighters into the prison.
Things came to a head in September when the Police Riot Squad was called in to quash a protest by inmates. They were forced to discharge rubber bullets and tear gas at prisoners who had refused to return to their cells to allow the police to conduct a search at the facility.
"We are not performing our duty properly, yes, because of fear," the prison source told OBSERVER. "I believe that if they take the gang leaders out (of) the prison, things might change."
The guard also alleged that the prison high command has turned a blind eye to gross breaches at HMP and have swept others under the rug.
The source also alleged that one female prison officer has been involved in a sexual relationship with a male inmate. Reportedly, the officer reports to work during the early morning hours so that she could have sex with the prisoner at their prison clinic rendezvous