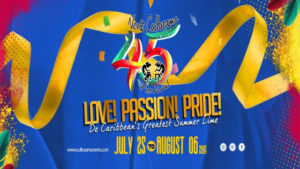 Seven finalists have been chosen to come up against King Dis N Dat in the highly anticipated Culturama 45 TDC Senior Kaiso Monarch.
The semifinals were held on Saturday and from a field of 12, after two rounds of renditions the following calypsonians were advanced:
Nutsy, King Irwin, Blackhat, Sookie, King Hollywood, Murray, and King Astro.
Kaiso Subcommittee Chairman on the Culturama Committee Warren Moven told Freedom FM the semis were keenly contested and he expects the finals will be even more competitive and definitely entertaining. He invited kaiso lovers and everyone else to come out to the show on August 3.
"We got started a little late on Saturday but once we got started the show ran relatively smooth. We had five judges who were attended a judges' workshop facilitated by Nubia Williams from Trinidad & Tobago who trained persons to adjudicate calypso. Patrons seemed to enjoy the show and at the end seven were selected to go through to the finals who were adjudicated to be the best suited persons based on their performance that night. The competition was quite keen. We had quite a variety of topics being covered and also a variety of tempos, it wasn't just the traditional slow-paced calypso, it had some up-tempo music mixed in and that made it very interesting.
"In the finals we have all experienced persons who would have performed in the finals at some point, all veterans except for Sookie who crossed over from the Juniors last year.
"The show is on Saturday and we hope to start at 9pm sharp, entry fee is $40. We expect the show to be quite entertaining and we're inviting calypso lovers and one and all to come out and enjoy what is going to be a highly competitive Kaiso competition."