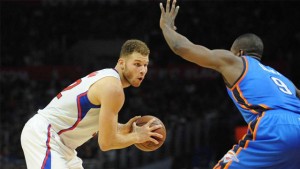 On Monday, the Oklahoma City Thunder defeated the Los Angeles Clippers, 100-99, in a game that was defined by star power.
Kevin Durant, Russell Westbrook, Chris Paul and Blake Griffin each made pivotal plays in the game's final minute, even if there were certain missed foul calls that may have swung the outcome of the contest.
But this game wasn't won in the final minute, despite what the play-by-play report might indicate. This game was won in and around the paint, in the trenches, by Serge Ibaka's one-on-one defense on Blake Griffin.
Ibaka held the former Oklahoma Sooner star to 15 points (on just 7-of-21 shooting) and five rebounds, using his length, strength and quickness to prevent Griffin from backing him down or creating enough space to get a high-percentage shot off. Griffin will always "get his," to an extent, but Ibaka makes it as difficult as anyone.
"I think Serge frustrated him a bit," Durant told The Daily Oklahoman. "I think Blake wanted a lot of fouls. He's an aggressive player, gets to the line a lot. He limited him tonight."
Durant was right. Griffin only attempted two free throws, making just one. With Griffin out of his element, Paul was forced to take on a larger role, something he is often reluctant to do, and something that Durant feels makes the Clippers less effective.
"CP doesn't really want to score a lot of points, wants to get others involved," Durant said. "But he had to score a lot tonight. Because when you take Blake Griffin out of the game offensively, that's not what they want to do. Chris Paul doesn't want to have 30 points. So we did a good job."