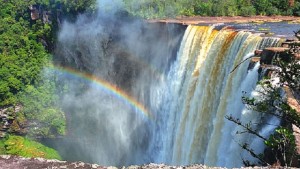 GEORGETOWN, Guyana, Monday November 23, 2015 – Another young woman plunged to her death from Kaieteur Falls on Saturday, marking the second apparent suicide at that location in two months.
Dead is Roshinee Pagwah of Reliance Abandon, East Canje, Berbice, Region Six. The 21-year-old jumped into the 741-foot Falls at about 11 a.m, according to eyewitnesses.
Roraima Airways' Marketing and Public Relations Assistant Tremayne Junor, who was present at the scene, told the Guyana Chronicle that the young woman appeared to be very reserved during the trip to the world's largest single-drop waterfall.
She noted that Pagwah had travelled alone, and had appeared "withdrawn from the group" of 11 persons, which also included two tour guides and a Kaieteur Ranger.
When the tour at the site of the falls had ended, and everyone was heading back to the airstrip, Pagwah had joined the line, but had made an about-turn, running without making any kind of sound before leaping over the falls, Junor told the Chronicle.
"No one could have saved her. The tour guide did a constant head count, and he was doing everything he was supposed to, but she moved too fast for anyone to react," Junor responded when asked whether any attempt had been made to intercept Pagwah's dash.
Junor said she had taken photographs of the young woman at the falls at her request.
The Chronicle reported that Pagwah had allegedly been suffering emotionally ever since her boyfriend Emran had committed suicide five years ago by consuming a poisonous substance while in his late teens. The two had reportedly had a rocky relationship, which had led to her ending the love affair and him ending his life subsequently.
A source said Pagwah had been the last person Emran had spoken to prior to committing suicide.
On her Facebook profile, on October 27, Pagwah wrote: "Today is gonna be 5 years now that ur gone & I swear not a day goes by that I don't think of u & miss u… u would never know how sorry I am up to this very day."
The young woman had reportedly attended the New Amsterdam Multilateral School, and had worked at the Guyana Power and Light (GPL).
At Pagwah's home, her mother, Indra Pagwah, was reportedly in total shock and disbelief. She told the Guyana Times that her only child left home at about 5:30 am on Saturday with a friend, claiming that she was travelling to Georgetown to clear a barrel.
She told the Times that she learnt of her daughter's death via social media.
Following the tragedy, the Ministry of Tourism issued a statement, expressing condolences to the family of the deceased, while adding that the Kaieteur National Park would be closed until further notice, as investigations were being conducted by the police.
The incident has commanded public attention, particularly on social media, with persons calling for the relevant authorities to fence off areas of the Falls.
This incident comes just two months after Georgetown resident Gyaneshwarie "Laleta" Sivanand ended her life at Kaieteur Falls, reportedly due to relationship issues.
Six years prior, another woman had done the same thing.