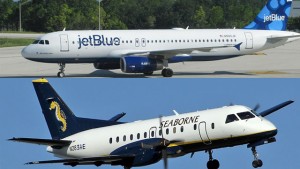 SAN JUAN, Puerto Rico, Tuesday May 26, 2015 – JetBlue Airways, the largest carrier in San Juan, and Seaborne Airlines have finalized terms to begin a codeshare marketing relationship that will improve travel between select Caribbean countries.
ADVERTISEMENT
The two airlines offer a combined 50 daily flights that connect 22 destinations. Seaborne will expand the JetBlue network to multiple new destinations, including Anguilla, Dominica, Guadeloupe, Martinique, St. Kitts & Nevis, and Tortola.
In addition, the Seaborne Airlines network will also provide JetBlue customers' access to an expanded presence throughout the United States Virgin Islands and the Dominican Republic.
"We are excited to expand our partnership with JetBlue. Providing improved connectivity in our common hub of San Juan will add tremendous value to Caribbean residents, visitors, and businesses," said president and chief executive officer of Seaborne Airlines Gary Foss.
Scott Laurence, senior vice president airline planning at JetBlue, said the codeshare agreement, which expands on the carriers' successful interline agreement in place since 2013, will make travelling to the Caribbean "easier than ever".
"Between JetBlue's leading position as San Juan's largest and most customer friendly airline, and Seaborne's extended local reach, this is a win-win partnership for customers and tourism," Laurence said.
Welcoming the move, executive director of the Puerto Rico Tourism Company Ingrid Rivera Rocafort said it would support and strengthen efforts to increase air access to the Island.
She said the new codeshare marketing relationship between Jet Blue and Seaborne would facilitate the arrival of more visitors and positively impact the island's economic development.
Along with JetBlue, Seaborne operates as a codeshare partner of American Airlines and Air Europa of Spain. Seaborne offers interline connecting agreements with Delta Airlines and United Airlines as well.
Seaborne and its partners offer non-stop service to 32 destinations in the Americas and Europe from San Juan. Its expanding network out of San Juan has helped solidify San Juan's position as the Caribbean's largest hub.