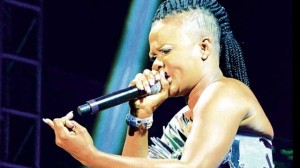 NEVER one for the conventional, Lady Saw enters new territory with her latest album, Alter Ego, which was released Tuesday by her Hall's Productions through a distribution deal with VP Records subsidiary VPAL Music.
Though Hall's Productions has released songs by Spragga Benz, Beenie Man, Assassin, Sizzla and Ce'Cile, Alter Ego is the first album bearing its seal. Saw told the Jamaica Observer that the set is rounded.
"It's Marion Hall (her real name) with a touch of Lady Saw. It's different," she said.
Alter Ego has duets with lovers' rock king Beres Hammond, rapper Flo Rida and UB40 lead singer Ali Campbell.
Saw decided to go the independent route after her previous album, My Way, which was distributed by VP. My Way was released in 2010 and did fairly well in the United States, but the bawdy deejay said it was time to get her productions out on Hall's and Diva's Records, her other label.
"I've been producing songs for some time yuh nuh, but a lotta people don't know," she stated. Saw added that while hit songs are critical to keeping artistes fresh in the dancehall, her interest lies with releasing albums.
"It still plays a great role in exposing the artiste. People get to see what you are about with an album," she said.
Lady Saw is the latest act to sign a distribution deal with VPAL which was launched five years ago by VP. The company feeds albums to its international digital, compact disc and vinyl network under distribution deals with artistes, most of whom are dancehall.
Konshens (Mental Maintenance), Busy Signal ('IT' Incomparable Talent), Anthony B (Tribute to Legends) and New Zealand band House of Shem (Harmony) are some of the acts who have similar agreements with VP.