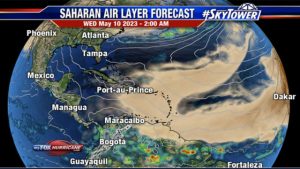 Air quality across the Eastern and Southern Caribbean has been reduced due to the presence of a moderate concentration of Saharan dust.
An alert issued by the Antigua and Barbuda Meteorological Services said air quality is down to moderate levels as a result of particulate matters of 2.5 and 10.
Montserrat's Disaster Management Coordination Agency (DMCA) said: "The threat of health problems is elevated, for mainly unusually sensitive people, such as asthmatics, and could potentially cause limited health impacts."
"Therefore, active children and adults, and, people with respiratory diseases such as asthma, should limit prolonged outdoor exertion."
DMCA said an N95 and KN95 mask should be worn by persons with respiratory issues when going outdoors.
Trinidad and Tobago's Meteorological Service is offering advice similar to DMCA to islanders.
Fox News' Saharan dust tracker shows that the Leeward Islands should get some reprieve by Thursday when the plume heads west.
However, dust will return on Friday when a fresh plume arrives.