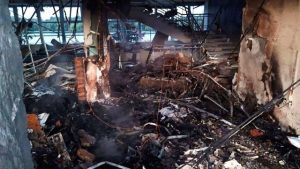 Russia accused Ukraine early Friday of attacking its Black Sea navy base in the port of Novorossiysk with sea drones.
The attack on Novorossiysk is the first time a commercial Russian port has been targeted in the 18-month war. The city is a major port on the Black Sea and hosts a naval base, shipbuilding yards and an oil terminal. It is a key port for Russian exports.
Novorossiysk is just across the water from Crimea, where Russia's Ministry of Defense said it thwarted another attack by Ukraine overnight, taking down 13 drones.
Russia's Ministry of Defense said Russian ships patrolling the perimeter of the naval base destroyed two Ukrainian sea drones. The mayor of Novorossiysk, Andrey Kravchenko, said the crews of the Olenegorsky Gonyak and Suvorovets ships "immediately reacted to the attack and helped to avoid consequences." Veniamin Kondratiev, the governor of the Krasnodar region where the base is located said there were no casualties.
The Caspian Pipeline Consortium, which operates an oil terminal in the port, said Russian navy ships repelled an attack of sea drones and that maritime traffic was banned temporarily. The company said its facilities were not damaged and that loaded tankers will be moved after the ban is lifted.
Footage published on Russian social media channels appeared to show a ship firing into the sea and a burning object exploding. Ukrainian agencies carried footage from social media channels they suggested showed a Russian ship listing to one side after the attack.
The Associated Press could not verify the videos. Ukrainian officials have not commented on the attack, in keeping with the country's security policy.
Minutes after confirming the attack on the Black Sea port, Russia's Ministry of Defense said it had also repelled another attack by Ukraine on Moscow-annexed Crimea. The defense ministry said air defense systems shot down 10 drones and it had electronically jammed another three.
Videos shared on Russian social media channels reportedly from around the city of Feodosia in Crimea showed what appeared to be air defense systems working, as well as loud explosions.
Meanwhile Russia's defense ministry also published videos on Friday of the Defense Minister Sergei Shoigu visiting a commander center in Ukraine. The defense ministry did not say exactly where Shoigu was but said he heard a report from the group commander Lieutenant General Andrei Mordvichev and inspected a captured Swedish infantry fighting vehicle CV90.
The Russian Ministry of Defense said Shoigu thanked personnel for conducting successful offensive operations in the direction of Lyman and for capturing more advantageous positions.