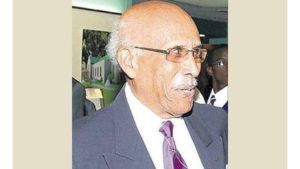 Eight local physicians are to sign the Fellowship Roll of the Royal College of Physicians of Edinburgh (RCPE) at the 45th annual Dr Ena Thomas Memorial Reception in Kingston tomorrow.
Professor Derek Bell, OBE, president of the RCPE, will preside over the signing of the roll and also deliver the guest lecture at the Ena Thomas Memorial Symposium on Sunday.
The RCPE, a medical royal college in Scotland, is one of the three organisations that set the speciality training standards for physicians in the United Kingdom. Established by Royal Charter in 1681, the college has over 12,000 fellows and members worldwide.
"Fellowship of the RCPE is awarded to consultants in recognition of clinical achievement and to be recognised among so many accomplished physicians from around the world is truly an honour," said Dr John Hall, convenor of the Ena Thomas Memorial Lecture and Symposium.
"To become a fellow, doctors must distinguish themselves in the practice of medicine, medical science or medical literature and must have made a significant contribution in one or more of these areas. It is an accolade held by some of the most exceptional and innovative physicians in the world," Dr Hall added.
Noting that another fellow must nominate the physician in order to be elected by the council, Dr Hall said, "the FRCPE post-nominal is a mark of achievement and skill as a doctor and recognises ongoing contribution to the profession".
He said that the signing of the Fellowship Roll for the RCPE would be the perfect precursor to the Ena Thomas Memorial Symposium being held under the theme 'Tomorrow's Therapeutics'.
Dr Bell's guest lecture will focus on 'Clinical Skills for the 21st Century'. A faculty of local doctors will present, including H Vaughn who will look at opthalmic issues; C Christie, vaccines; F Hickling, Cultural Therapy a Holistic Approach to Health and Mental Health; S Mitchell, 'Genetic Screening and Modification in Genealogy'; and M Arthurs, endoscopy and ERCP.
Physicians and medical practitioners will earn seven Continuing Medical Education credits for attendance at the symposium.