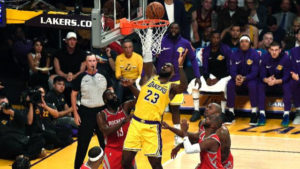 Los Angeles (AFP) – LeBron James home debut with the Los Angeles Lakers ended on a sour note Saturday as the Houston Rockets seized control late for a 124-115 win in a physical contest at Staples Center.
James finished with 24 points and five assists but the Lakers couldn't stop the Rockets' dynamic duo of James Harden and Chris Paul, who combined for 64 points at Staples Center arena.
Harden finished with 36 points and Paul delivered 28 and 10 assists before he was ejected in the fourth quarter for fighting.
The four-time NBA most valuable player James signed with the Lakers three months ago after leading the Cleveland Cavaliers to four straight NBA final appearances, including their first championship in 2016.
Saturday's loss left James still searching for his first win as a Laker. In his season-opening game on Thursday in Portland, James scored a game-high 26 points and had 12 rebounds in a 128-119 loss to the Trail Blazers.
James was introduced to the sold out crowd of 19,000 by Lakers announcer Lawrence Tanter, "The other forward is number 23, his 16th campaign, St. Vincent-St. Mary High School, LeBron James!"
The Rockets scored the first seven points before James scored on his first shot attempt, cutting Houston's lead to five two minutes into the game. James introduced himself to the Laker fanatics with an 18 foot pull up jumper.
A minute later he tried his first three pointer from 26 feet but it bounced away.
It was a more reserved start than the one he had on Thursday when he delivered back-to-back, rim-rattling dunks for his first two baskets to open his Lakers' era.
On Saturday, he electrified the Staples Center crowd for the first time with a monster two-handed slam to tie the contest 14-14 halfway through the first quarter.
Paul was ejected along with Lakers Rajon Rondo and Brandon Ingram after they were involved in a wild melee that escalated quickly and involved punches thrown on both sides.
Paul and Rondo were the main combatants trading blows after Paul stuck his finger in the face of Rondo and pushed him hard. Rondo answered with a roundhouse punch that would have made boxing champion Floyd Mayweather proud — the fighter was sitting courtside obviously enjoying the fireworks.
Ingram was given two technicals, one for starting the fiasco by pushing Harden in the back and the other for a sucker punch from behind an unsuspecting Rockets player as he charged back into the kerfuffle for round two.
"I saw it from a distance. It was very heated stuff," said Rockets coach Mike D'Antoni.