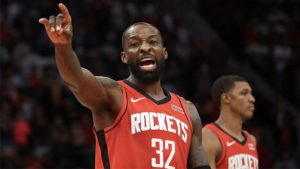 In the conclusion of a season-long homestand of seven games at Toyota Center, the Rockets took perhaps their biggest step yet in Sunday's 107-104 victory (box score) over the defending NBA champion Nuggets. It's the sixth straight win for Houston (6-3) and only the second loss of the 2023-24 regular season for Denver (8-2).
Nikola Jokic, a multi-time MVP, led the visitors with 36 points, 21 rebounds, and 11 assists. But after taking a seven-point lead at the end of the first quarter. Denver was outscored by Houston in each frame for the game's duration. Veteran forward Jeff Green scored 13 of his 15 points in the fourth quarter to help put the game away.
"It gives us another feather in our cap," head coach Ime Udoka said in his postgame press conference. "It gives us experience with late-game execution and getting the shots we want, and defending. I'm happy with how we finished. They did hit some tough shots, but that's expected from a championship-caliber team."
Standout players for the Rockets included:
Fred VanVleet: 26 points, 4 assists in 41 minutes; 9-of-21 shooting (42.9%), 3-of-9 on 3-pointers (33.3%)
Alperen Sengun: 23 points, 8 rebounds, 5 assists in 35 minutes; 9-of-18 shooting (50.0%), 5-of-6 on free throws (83.3%)
Jeff Green: 15 points, 4 rebounds in 26 minutes; 5-of-7 shooting (71.4%), 2-of-4 on 3-pointers (50.0%)
Here's our look at highlights and postgame interviews from Sunday night, along with reaction by media members and fans. Next up for Houston, as a brief road trip begins, is Friday's late game in Los Angeles against the Clippers. Tipoff is at 9:30 p.m. Central.