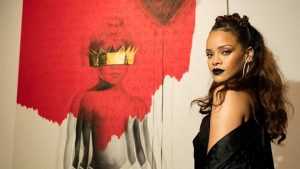 LONDON, England, Thursday December 29, 2016 – Barbadian superstar Rihanna has done just about everything possible in and out of the world of music this year – from receiving a lifetime achievement award at the MTV Video Music Awards in August, to playing a prominent role in Prince Harry's itinerary during his recent visit to the island.
Now, the 28-year-old singer, model and actress has chalked-up another success with her latest album, Anti, securing a place on the international music critics' favourite album of the year list.
The results of the "poll of polls" were compiled by the BBC from 25 Album of the Year polls, published by the most influential magazines, newspapers and blogs in music – from specialist publications like Billboard and Q Magazine to more mainstream outlets, such as Cosmopolitan and Digital Spy.
The records were assigned points based on their position in each list – with the number one album getting 20 points, the number two album receiving 19 points, and so on.
There was reportedly huge diversity in the critics' picks, with 145 albums cited across the 25 polls surveyed.
Rihanna's Anti placed twelfth overall in the face of fierce competition in the music industry from artistes past and present.
The "Work" girl – who recently took her annual Christmas break back home in Barbados – was narrowly edged out of 11th place by the late Leonard Cohen's You Want it Darker. Both took a backseat to David Bowie's second-placed Blackstar, which was released two days before his death in January.
Head and shoulders above the rest was Beyonce's politically charged visual album Lemonade, which tackles themes of black empowerment and female identity, and was described by Rolling Stone as "larger than life yet still heartbreakingly intimate."
Beyonce's sister Solange also proved to be a force to be reckoned with. A Seat at the Table, her soulful portrayal of the struggles faced by black women, placed fifth, beating Kanye West's Life of Pablo into sixth place.
Third place went to Frank Ocean's Blonde, with Chance The Rapper's Colouring Book placing fourth.
Rounding off the top 10 were A Tribe Called Quest's We Got It From Here; Radiohead's A Moon Shaped Pool; Angel Olsen' My Woman, and Mitski's Puberty 2.
The 25 "best of" lists appeared in: The Atlantic, The AV Club, Billboard magazine, Consequence of Sound, Cosmopolitan, Digital Spy, Entertainment Weekly, The Guardian, The i Newspaper, Mojo, NME, NPR, Paste, Pitchfork, Q Magazine, Rolling Stone, Salon, Spin, Stereogum, The Times, Time Magazine, Time Out London, Time Out New York, Uncut and Vice.