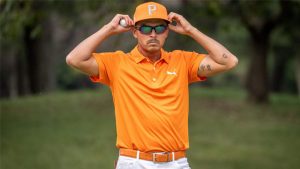 LOS ANGELES — The last few years haven't been easy for Rickie Fowler.
After being known as one of the world's best young golfers in the mid-2010s, Fowler's career started to skid. He missed the Masters in 2021, marking his first missed major since 2010. The former Oklahoma State star missed the Masters again in 2022 and 2023, and missed the cut at the PGA Championship in May. Fowler hasn't played in the U.S. Open since 2020, when he tied for 49th.
But, he looked like his old self Thursday morning. He entered the U.S. Open as the World No. 45, steadily climbing the rankings after beginning 2023 at No. 111.
Fowler carded a 62 in the opening round of the U.S. Open, matching the lowest score in men's majors history and the lowest score in U.S. Open history.
"It's definitely been long and tough. A lot longer being in that situation than you'd ever want to," Fowler said about the past few years. "But it makes it so worth it having gone through that and being back where we are now."
Fowler was consistently able to get himself out of trouble on the Los Angeles Country Club North Course, carding 10 birdies, including three in a row to start his back nine.
"It was a great day. Got off to a nice start making 3 on [No.] 10 and just never really thought about a score or necessarily what I was trying to do out there," Fowler said.
All eyes were on Fowler as he continued to lead the pack, with a sizable and growing crowd following behind. Fans cheered loudly for Fowler, with calls of "Let's go, Ricky!" and similar sentiments ringing out as he moved from hole to hole.
It's one round, 18 holes. He knows he still has 54 to go.
"This week, off to a good start, but there's still plenty of golf to be played. It's going to be tough tomorrow afternoon. But at least got out of the gate and we're off to, like I said, a good start," he said.
But even in setting a U.S. Open record, Fowler has some company, with Xander Schauffele matching him with his own 62.
"It's not really what you expect playing a U.S. Open. But monkey see, monkey do," Schauffele said. "[I] was just chasing Rickie up the leaderboard. Glad he was just in front of me."
Schauffele clearly took a lighthearted attitude to his tie with Fowler, jokingly asking the fellow Californian on Twitter if he'd like to "do this again tomorrow."
Other golfers also chimed in on Fowler and Schauffele's early success.