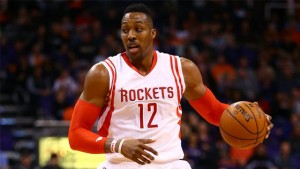 Many a center today draws inspiration from the great Bill Russell, one of the most dominant big men in National Basketball Association history. However, that inspiration should probably only apply to on-court greatness. You know, rebounding, outlet passes, rim protection, jump hooks, unselfishness, intangibles, winning team basketball. And the like. It definitely shouldn't extend to bringing a loaded firearm to a busy local airport.
That's exactly what Rockets center Dwight Howard reportedly did late last month, getting busted for having a loaded handgun in a carry-on bag at George Bush Intercontinental Airport in Houston, some two years after Russell was arrested at a Seattle airport for a similar incident.
Calvin Watkins of ESPN reported on Wednesday that the incident in question took place on August 28. TSA agents discovered the weapon at the bottom of the eight-time All Star's carry-on bag, and Howard was detained by law enforcement officials.
The good news is that the 29-year-old Howard appears to have dodged a major bullet here (no pun intended) as the Houston District Attorney's office declined to press charges for the incident. Howard also may have benefited from more lenient gun laws in the state of Texas compared with other states.
Watkins goes onto say that Howard was allowed to release the gun to an associate and proceeded to board a later flight.
The former Defensive Player of the Year struggled with persistent knee injuries in 2014-15 averaging 15.8 points per game and 10.5 rebounds per game in just 41 regular season appearances. As he looks to bounce back next to a revamped roster bolstered by the addition of former Nugget Ty Lawson, Howard incredibly fortunate that his foul-up (which looks like a simple lapse in judgment) happened in favorable circumstances where the authorities were fairly quick to forgive.
Best save that target practice for the free throw line, Dwight.