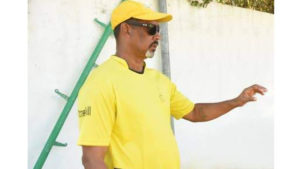 New Cricket West Indies President Ricky Skerritt says the decision to appoint Floyd Reifer and Robert Haynes to interim positions of head coach and chairman of its selection panel, respectively, was designed to try and bring back a "sense of pride and aspiration" to the West Indies team.
Skerritt said these two key features too often appeared absent from the Windies team in recent times and the moves were in a bid to try and reignite the passion among players.
"West Indies cricket, at its best, has always been a representation of the hopes and aspirations of the Caribbean, and an illustration of the heights of excellence that our West Indian people can attain when we work together as one," said Skerritt before he confirmed the appointments during a media conference which was webcast "live" from the Coolidge Cricket Ground on the CWI website.
"That is why West Indies cricket has been aptly described as a 'public good' that belongs to millions of West Indian people all across our region and the world.
"When our cricket teams and gifted individuals showcase excellence on a world stage, we walk taller as a people, and we beam with pride as we look at our own young West Indians face up with confidence and God-given talent to the best competition from across our globe."
On the decision to appoint Reifer, Skerritt said: "Our landmark decision to introduce a well-suited, young West Indian professional as our men's team coach is, therefore, a clear indicator of the seriousness of our West Indian first policy and represents a commitment to celebrate the best of what it means to be West Indian.
"This decision also underscores the need for fresh thinking and an even more urgent need to embrace our new all-inclusive selection policy and in the midst of change, we have no doubt that our West Indian players, led expertly by Jason Holder, will be well prepared going to the World Cup."
He continued: "He has lived up to the same principles of West Indian excellence that we now insist must prevail. Up to the end of last year, Floyd had been identified as the outstanding, emerging [West Indian] coach.
"Our performance record overseas under international coaches has been dismal at best. All of our victories in ICC tournaments have been with the help of [West Indian] coaches. That is also why we have decided to give the opportunity to a young, but seasoned professional, who lives among us, and who has dedicated his life to developing our young people and teaching them our cricket culture.
"With a focused team that will be led by the new No1 all-rounder in the world, Jason Holder, and filled with a collection of our best possible available [players], I have no doubt that coach Reifer is the right man at the right time."
On the appointment of Haynes, Skerritt said: "He is the most experienced and best suited for this responsibility at this time. We are confident we have found an interim chairman who shares the philosophy of inclusiveness and our belief in the new selection policy.
"Because of his impressive record of good relations with players and past players, we have no doubt that [Robert] will engage with players everywhere, strictly in the interest of what is best for West Indies cricket."
The widely expected appointments of Reifer and Haynes followed a CWI board meeting on Tuesday. The two are expected to remain in the roles through the upcoming ICC Cricket World Cup 2019 England & Wales and the Windies' home series against India in July/August.
As a result, Richard Pybus, who held the position of interim head coach for the team's recent, highly successful home series against England, is to return to his substantive role of high-performance director, and the previous selection panel, headed by Courtney Browne, will be replaced.
Haynes, Reifer and team captain Jason Holder, currently playing for Northamptonshire in the English County Championship, will form the selection panel for the Windies team that will take part in a One-day International series next month in Ireland, ahead of the World Cup.